Boeing CF-188 B Hornet Royal Canadian Air Force 410 Tactical Fighter Operational Training Squadron Kinetic 1/48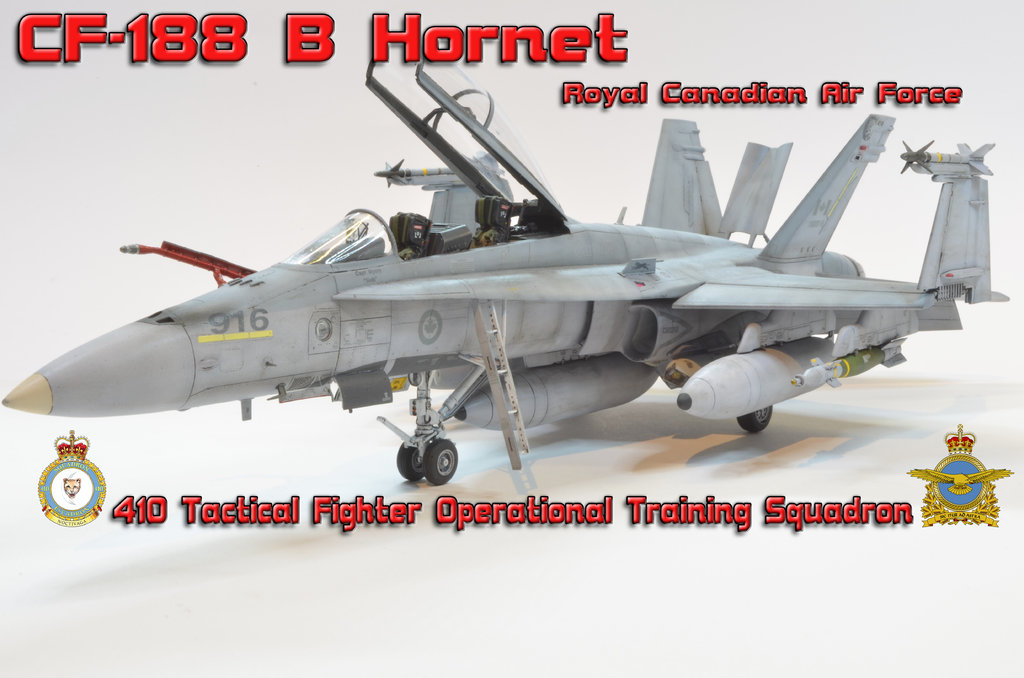 Als erstes Modell im Jahr 2020 wurde kurz nach Neujahr die CF-188B Hornet der kanadischen Luftwaffe, was im Wesentlichen einer zweisitzigen F/A-18B Hornet entspricht, fertig.
Die Basis für das Modell bildete der Kit von Kinetic Nr. K48030, der auch gleich die exzellenten, von Crossdelta designten und von Cartograf gedruckten, Decals lieferte.
Obschon der Kit von Haus aus schon sehr schön detailliert ist und sogar schon Ätzteile beinhaltet, kam dennoch wieder etwas Zubehör dazu. Dies in Form von Nozzles (Attack Squadron), Rädern (North Star Models) und Sitzen aus Resin.
---
As the first model in 2020, the Canadian Air Force CF-188B Hornet, which essentially corresponds to a two-seater F/A-18B Hornet, was completed shortly after New Year.
The basis for the model was the kit from Kinetic No. K48030, which also provided the excellent decals designed by Crossdelta and printed by Cartograf.
Although the kit is already very detailed and even contains etched parts, some accessories were added. This in the form of nozzles (Attack Squadron), wheels (North Star Models) and resin seats.