MiG-21bisD 116 und 131, Croatian Air Force, 91. Air Base Zagreb – Pleso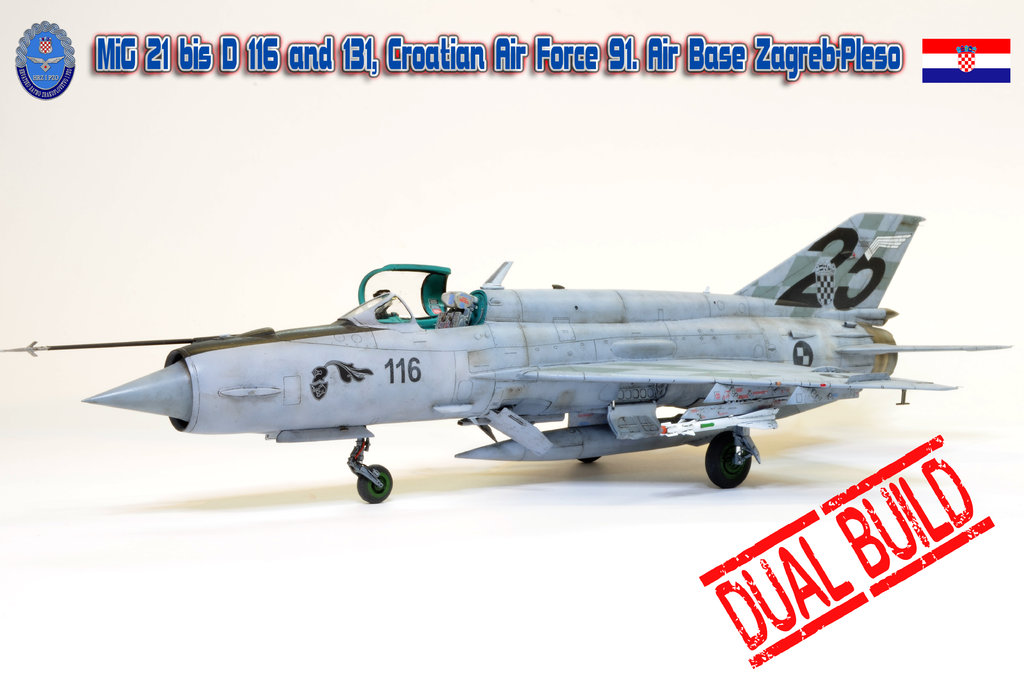 Nachdem ich bisher immer nur einzelne Flugzeuge gebaut habe, wagte ich mich dieses Mal an einen «Dual-Bau» zweier kroatischer MiG-21bisD in der neuen Lackierung. Gebaut wurden die Modelle aus den hervorragenden Kits von Eduard (Limited Edition und ProfiPack) im Maßstab 1:48, welche auch schon in unterschiedlichem Umfang Zubehör beinhalteten. Je nach Kit wurden die übrigen Zubehörteile, d.h. Räder, Nozzles, Sitze, R-60 Raketen und Air Brakes von Eduard Brassin ergänzt. Hinzu kamen noch Pitotrohre von Master und für den ProfiPack-Kit Decals von Model Maker. Letztere waren ein Problem, da die Farbe des Karo-Musters völlig daneben war, weshalb davon nur die Nummern, Kokarden und das Emblem am Bug verwendet werden konnten.
Als Folge davon wurde bei der 131 das Karo-Muster auflackiert, was nicht ganz einfach war. Schlussendlich hat es ganz gut geklappt, auch wenn ein kleiner Farbunterschied zur 116 besteht. Lackiert wurden beide Maschinen grösstenteils mit Farben von MRP.
Noch fehlen Leitern und Figuren, aber wenn alles bereit ist, sollen die beiden Maschinen als kroatische Alarmrotte (QRA) dargestellt werden.
---
After having built only single aircraft so far, this time I ventured to do a "dual build" of two Croatian MiG-21bisD in the new livery. The models were built from the excellent Eduard kits (Limited Edition and ProfiPack) in 1/48th scale, which already included accessories in varying amounts. Depending on the kit, the remaining accessories, i.e. wheels, nozzles, seats, R-60 rockets and air brakes were added by Eduard Brassin. Pitot tubes from Master and for the ProfiPack kit decals from Model Maker were also added. The latter were a problem, because the colour of the check pattern was completely wrong, so only the numbers, cockades and the emblem on the nose could be used.
As a result, the check pattern was painted on the 131, which was not easy. In the end it worked out quite well, even if there is a small colour difference to the 116. Both machines were mostly painted with MRP colours.
Ladders and figures are still missing, but when everything is ready, the two aircraft will be depicted as a Croatian alert squadron (QRA).