Sukhoi SU-27 SM Flanker B Mod.1 Zvezda 1/72
Text&Pictures by Manuel S.
Facts
Modell: Sukhoi SU-27 SM Flanker B Mod.1
Manufacturer: Zvezda
Modellnr.:  7295
Scale: 1/72
Parts: —
Sprues: 6x gray 1x clear
Price: ca.20 Euro
Year of Production: 2014
Particularities: —-
+ Feine versenkte Gravuren
+ Einwandfrei gedruckte Decals
+ Auswahl an 3 darstellbaren Maschinen
+ Preis
– zu wenig detailiertes Cockpit und Schleudersitz
– wenig Informationen zum Modell
– Farbangaben nur für Humbrol
– Modellständer nicht enthalten
---
+ Fine recessed engravings
+ Impeccably printed decals
+ Choice of 3 representable machines
+ Price
– too little detailed cockpit and ejection seat
– low information about the model
– Color information only for Humbrol
– Model stand not included

Ein Bausatz der absolut "Up to Date" ist, und mit den Trumpeter Kits locker mithalten kann. Letztendlich entscheidet aber der Bau an sich.
---
A kit that is absolutely "up to date", and can easily keep up with the Trumpeter kits. Ultimately, however, the building itself decides.
Kit Review
Der russische Hersteller Zvezda steigt mit seiner Su-27SM Mod I gegen die Trumpeter Bausätze in den Ring welche schon einige Jahre auf dem Markt sind. Geliefert wird der Bausatz unter anderem in einer stabilen Klappbox, die gefällt mir besonders gut.
---
The Russian manufacturer Zvezda rises with its Su-27SM Mod I against the Trumpeter kits in the ring which are already several years on the market. Among other things, the kit is delivered in a sturdy box which is decorated with an appealing boxart.

Auf der Rückseite wird gezeigt in welcher Konfiguration dieses Modell gabut werden kann! Allerdings ist hier zu vermerken, dass der Ständer in diesem Bausatz  NICHT entahlten ist, und bei bedarf gesondert bestellt werden muss.
---
On the back is shown in which configuration this model can be built! However, it should be noted here that the stand is NOT included in this kit, and if necessary ordered separately.
Was mir persönlich an Zvezda immer wieder sehr gut gefällt, ist die zusätzliche Klappbox in der sich letztendlich die Gussäste mit dem Decalbogen sowie der Bauanleitung befinden. In dieser Klappbox sind die Teile sehr gut geschützt!
---
What I personally like about Zvezda over and over again is the additional folding box in which the sprues with the decal sheet and the construction manual are located. In this folding box, the parts are very well protected!
Die Bauanleitung wird in dezentem schwarz/weiss gehalten, und sprachlich in Russisch und Englisch.
---
The construction manual is kept in discreet black and white, and linguistically in Russian and English.
Die Farbangaben sind für das hauseigene und das ModelMaster-Farbsystem. Die Bemalungshinweise sind sehr klein. Hier wünsche ich mir in der Zukunft eine A4-Seite pro Variante und dann noch in Farbe.
Darstellbare Maschinen:
Su-27SM, rote 82, WWS Russlands, 2011;
Su-27SM3, rote 51, WWS Russlands, 2013;
Su-27SM, rote 04, WWS Russlands,2013.
---
The color specifications are for the in-house and the ModelMaster color system. The painting instructions are very small. Here I wish in the future an A4 page per variant and then in color.
Displayable machines:
Su-27SM, red 82, WWS Russlands, 2011;
Su-27SM3, red 51, WWS Russlands, 2013;
Su-27SM, red 04, WWS Russlands,2013.
Der Decalbogen ist tadellos auf hellblauen Trägerpapier gedruckt.
---
The decal sheet is impeccably printed on light blue  paper.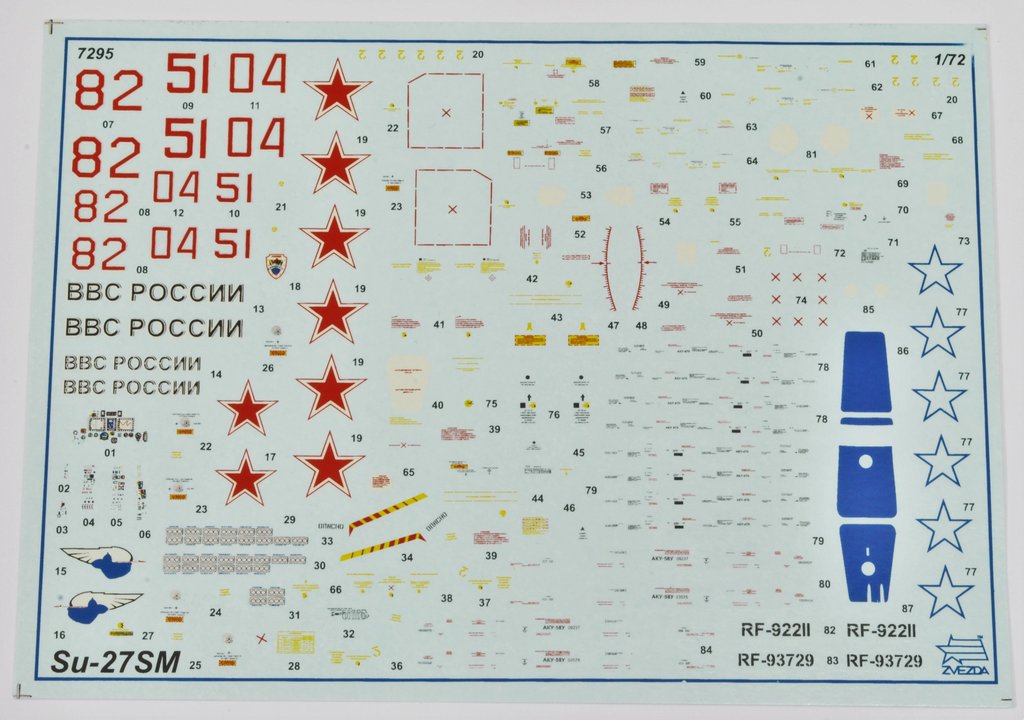 Im Bausatz liegt ein Gussast nur für den Piloten bei. Hier kann gewählt werden oder Pilot in der Maschine sitzt oder locker lässig mit dem Helm unter dem Arm neben der Maschine steht.
---
The kit includes a sprue only for the pilot. Here you can choose or pilot sits in the machine or loosely casual with the helmet under his arm next to the machine.
Die Klarsichteile sehen auf den ersten Blick etwas matt aus, und zusätzlich mit ein paar Schlieren versehen. Mit dementsprechender Politur sollte dies aber abzumildern sein.
---
The clear parts look a bit dull at first glance, and additionally provided with a few streaks. With corresponding polish this should be mitigated.
Die Gussäste für die Schubdüsen und Bewaffnungen liegen 2 mal bei, und überzeugen durch eine tolle Qualität.
---
Thesprues for the nozzles and armaments are 2 times included, and convince by a great quality.
Das Rumpfoberteil ist zweigeteilt. Dadurch sind sicherlich auch Doppelsitzer in der Zukunft zu erwarten. An die Unterseite sind auch gleich die Tragflächenunterseiten anmodelliert. Es ergibt sich nach der Montage der Oberseiten eine scharfe Hinterkante. Die Vorflügel werden separat angeklebt. Die beiden Seitenleitwerke sowie die beiden Hälften des Höhenleitwerks bestehen aus einem Stück. Auch dort gibt es dadurch messerscharfe Hinterkanten.
---
The fuselage shell is divided into two parts. As a result, double-seaters are certainly to be expected in the future. At the bottom are also modeled the wing undersides. It results after mounting the tops a sharp trailing edge. The slats are glued separately. The two vertical stabilizers as well as the two halves of the horizontal tail consist of one piece. There, too, there are razor-sharp trailing edges.
Leider sind Cockpit und Schleudersitz etwas mager ausgefallen was die Detailierung betrifft. Im Cockpit muss hier leider wie vor Jahren auf Decals zurückgegriffen werden.
---
Unfortunately, the cockpit and ejection seat turned out a bit thin as far as the details are concerned. In the cockpit, unfortunately, as in previous years, decals must be used.