McDonnell Douglas F-4 J Phantom VMFA-115 Silver Eagles Hasegawa 1/48
Text&Pictures by Manuel S.
Photo Build
Es ist mal wieder Zeit für einen Baubericht, und dieses mal habe ich mich für eine F-4 J Phantom im Maßstab 1/48 aus dem Hause Hasegawa entschieden. Genauer gesagt möchte ich die Maschine der VMFA-115 Silver Eagles im Spezialkleid bauen. Es sei angemerkt, dass ich von dieser Staffel schon die F/A-18 A+ gebaut habe.
---
It is time again for a Photo built, and this time I have decided for a F-4 J phantom in scale 1/48 from by Hasegawa. More specifically, I would like to build the machine of the VMFA-115 Silver Eagles in  special colors. It should be noted that I have already built the F / A-18 A + from this Squadron.
*************
Weiter geht s mit den Zutaten die ich verwenden werde! Leider ist die Electronic Bay auf diesem Bild noch nicht zu sehen, da diese noch nicht geliefert wurde.

---
Go on with the ingredients I will use! Unfortunately, the Electronic Bay is not yet on this picture because it has not been delivered yet.
Für Referenzen verwende ich "Die Bibel" Uncovering the the US Navy Q/F-4 B/J/N/S Phantom von Danny Coremans.
---
For references I use "The Bible" Uncovering the US Navy Q / F-4 B / J / N / S Phantom by Danny Coremans.
*************
Begonnen hab ich üblicherweise mit dem Cockpit! Zuerst hatte ich ein Resincockpit geplant, aber da ich damit überhaupt nicht klar kam, entschied ich mich dazu das Bausatz Cockpit aufzuwerten und einzubauen. Das Cockpit ist wie hier zu sehen noch nicht ganz fertig.
---
I usually started with the cockpit! At first I had planned a Resincockpit, but I did not handle it at all, I decided to upgrade and install the Cockpit kit. The cockpit is not quite finished, as you can see here.
Der Schacht für die Electronic Bay wurde ebenfalls geöffnet! In diesem Fall habe ich, entlang den Markierungen kleine Löcher gebohrt und die übrig gebliebenen Stege mit dem Skalpell durchtrennt. Anschließend wurde der Schacht mittels eines Schleifstick´s angepasst.
---
The bay for the Electronic Bay has also been opened! In this case, I have drilled small holes along the markings and severed the remaining bridges with a scalpel. Subsequently, the shaft was adjusted by a Sanding Stick.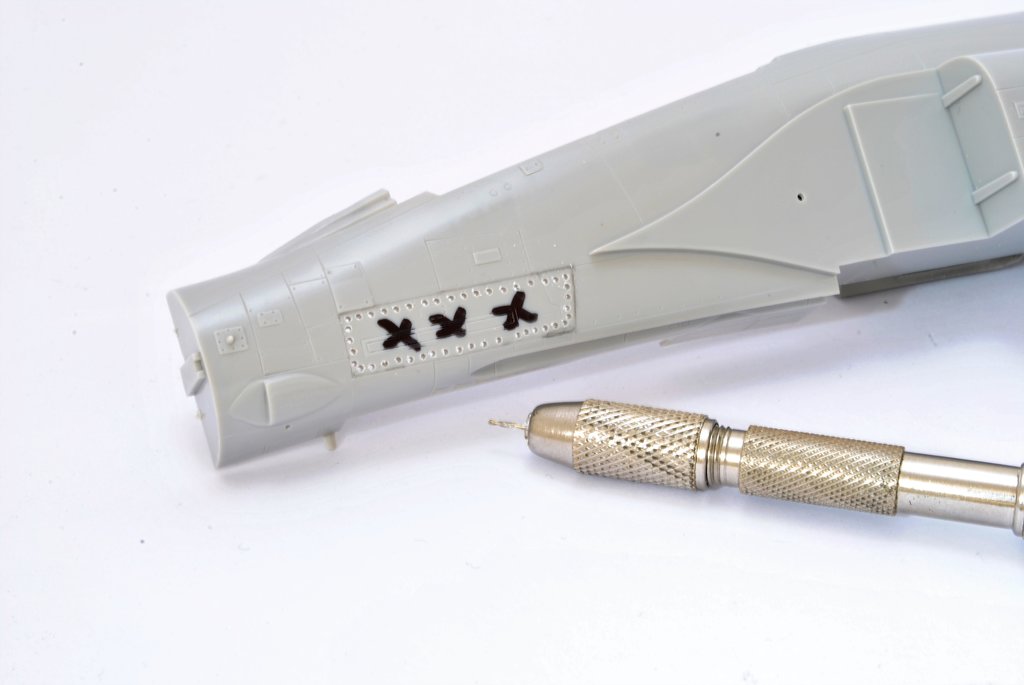 Nachdem der Schacht nun verbaut ist konnte ich das Cockpit einpassen. Hier hat mit Hasegawa aber zu viel Platz gelassen, so dass dieser Bereich mit geöffnetem Canopy zu unrealistisch aussieht. Somit wurden die zu schmalen teile gegen breitere aus Plastiksheet ausgetauscht.
---
After the bay is now installed I was able to fit the cockpit. But here Hasegawa left too much space, so this area with open canopy looks too unrealistic. The too narrow parts were replaced by wider plastic sheets.
*************
Die seitlichen Paneele wurden in Eigenregie etwas verfeinert, da Hasegawa hier etwas gespart hatte. Zum Einsatz kamen etwas Sheet und Draht anschließen konnte das ganze dementsprechend bemalt werden.
---
The side panels were refined on their own, as Hasegawa had saved something here. For use came some sheet and wire could connect the whole accordingly painted.
Auch das Cockpit, welches ich aus dem Bausatz entnahm, wurde mit etwas Draht und Plastiksheet aufgewertet. Da das Cockpit geschlossen dargestellt wird, habe ich auf eine weitläufige Detaillierung verzichtet.
---
The cockpit, which I took from the kit, was upgraded with some wire and plastic sheet. Since the cockpit is displayed closed, I have waived extensive detailing.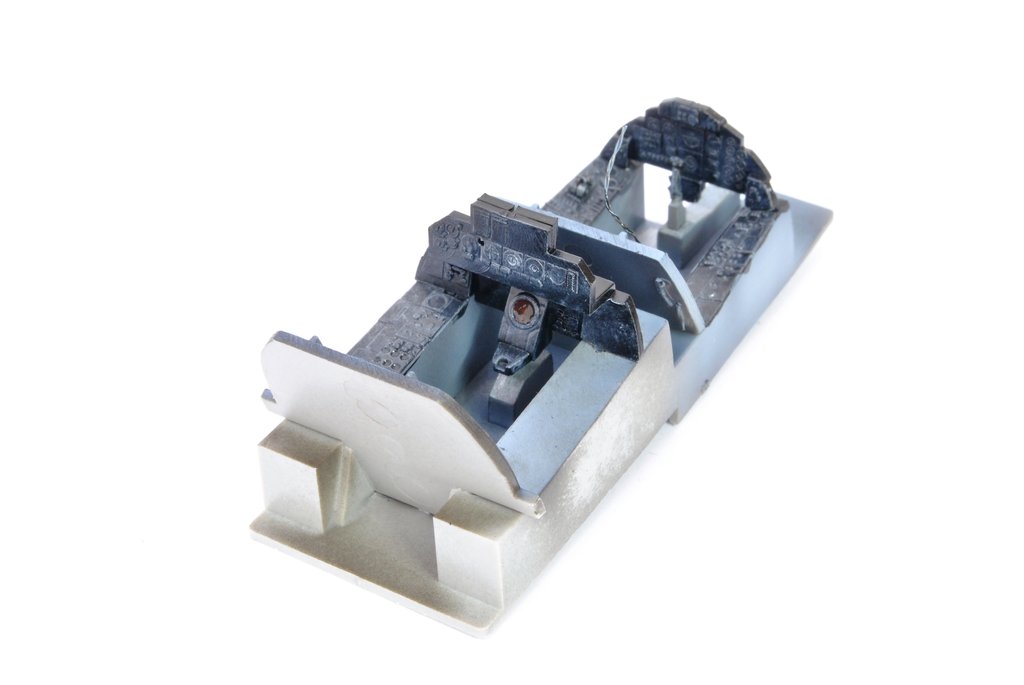 Als nächstes wurde das Cockpit in die beiden Rumpfhälften eingebaut, und anschließend alles miteinander verklebt.
---
Next, the cockpit was installed in the two fuselage halves and then glued everything together.
Nachdem das Cockpit seinen Platz gefunden hat, mussten die Navigationslichter an der Phantom entfernt werden. Hier mit Pfeilen gekennzeichnet.
---
After the cockpit has found its place, the navigation lights on the phantom had to be removed. Here marked with arrows.
Entfernt wurden die Navigationslichter mit 400er 600er-800er 1000er und zum Schluss als Finish 1200er-Nassschleifpapier. Dementsprechend folgte als Kontrolle eine dünne Farbschicht, um Unregelmäßigkeiten an der Modelloberfläche feststellen zu können.
---
The navigation lights were removed with 400-600-800-1000 and finally as finish 1200 wet sandpaper. Accordingly, a thin coat of paint was used as a control to detect irregularities on the model surface.
An der Nasensektion, und an den Tragflächenwurzeln musste ein klein wenig verspachtelt werden. Dies geschah mit Vallejo Plastic Putty und Liquid Green Stuff.
---
At the nose section, and at the wing roots had to be a little bit filled. This happened with Vallejo Plastic Putty and Liquid Green Stuff.
*************
Um dieses Modell etwas Dynamischer zu gestalten, entschloss ich mich dazu die Flaps abgesenkt darzustellen. Dazu mussten die Klappen ausgeschnitten und angepasst werden. Die dabei entstandenen Spalten wurden mit etwas Plastiksheet und Vallejo Plastic Putty verschlossen.
---
To make this model a bit more dynamic, I decided to display the flaps lowered. For this, the flaps had to be cut out and adjusted. The resulting gaps were closed with some plastic sheet and Vallejo Plastic Putty.
Als Nächstes folgte das Ersetzen des Beacon Lights an der Tailfin. Das Antikollisionslicht welches sich im Bereich des Seitenleitwerkes befindet, wird Bausatz seitig nur durch Gravuren angedeutet. Dazu wurde von mir mittels einer Feile der betreffende Bereich entfernt und durch ein Stück transparenten Gussast ersetzt. Um das Klarteil vor Farbe zu schützen deckte ich das Teil mit Micro Mask Maskierflüssigkeit ab.
---
Next came the replacement of the Beacon Lights on the tailfin. The anti-collision light, which is located in the area of ​​the vertical tail unit, is indicated on the kit side only by engraving. For this purpose, I removed by means of a file of the area concerned and replaced by a piece of transparent sprue . To protect the clear part from color, I covered the part with Micro Mask Masking Liquid.
Im gleichen Atemzug ging es an die Pitot Rohre welche ebenfalls als Plastikangüsse dargestellt sind. Diese wurden entfernt und mittels Messing Rohre von Albion Alloys angefertigt. Diese Röhrchen passen präzise ineinander und eignen sich dafür perfekt.
---
In the same breath we went to the pitot tubes, which are also shown as plastic feeder. These were removed and made by brass pipes from Albion Alloys. These tubes fit together perfectly and are perfect for it.
Um die Arbeiten am Rumpf abschließen zu können musste das Cockpit noch verschlossen werden. Dazu klebte ich das Canopy provisorisch mit Maskierflüssigkeit an den Rumpf.
---
To complete the work on the fuselage, the cockpit still had to be closed. For this, I glued the canopy provisionally with masking liquid to the hull.
Nach diversen kleineren Ausbesserungsarbeit an der Modelloberfläche konnte ich die Maschine als "Grundierfertig" bezeichnen.
---
After various minor repair work on the model surface I could call the machine "ready for primer".
Mit dem Grey Primer von Alclad wurde die Phantom letztendlich in einheitliches grau lackiert.
---
With the Gray Primer from Alclad, the phantom was finally painted in gray.
Weiter ging es mit den Tanks! Nach dem standesgemäßen verkleben und schleifen, musste noch etwas nach graviert werden. Anschließend konnten die Tanks ebenfalls grundiert, schattiert und lackiert werden.
---
It continued with the tanks! After the proper bonding and grinding, something had to be engraved after. Then the tanks could also be primed, shaded and painted.
Nachdem ich die Oberfläche der Phantom nochmals überarbeitet hatte, konnte es mit der Schattierung losgehen. Dazu wurden zuerst die Panellines mit schwarz vor schattiert und anschließend die Innenflächen der Paneele "Aufgelockert". Die Highlights wurden mit weiß erzeugt!
---
After revisiting the surface of the phantom, the shading could start. For this purpose, the panellines were first shaded with black and then the inner surfaces of the panels "loosened". The highlights were created with white!
Jetzt konnte die Hauptlackierung begonnen werden. Diese erfolgte in insgesamt 3 Schichten. Für die Lackierung verwendete ich Farben von Mr.Paint!
Unterseite: MRP-99 U.S. Navy White (FS 17875)
Oberseite: MRP-98 U.S. Navy Light Gull Grey (FS 36440)
Für den Blauen Bereich: MRP-300 Insignia Blue (FS 15044)

---
Now the main painting could be started. This took place in a total of 3 layers. For the paint I used colors from Mr.Paint!
Bottom: MRP-99 U.S. Navy White (FS 17875)
Top: MRP-98 U.S. Navy Light Gull Gray (FS 36440)
For the blue area: MRP-300 Insignia Blue (FS 15044)
Nachdem die Hauptlackierung mit einem für mich befriedigenden Ergebnis vollendet wurde, begann ich damit den Heißbereich abzukleben und zu lackieren. Um den Metall-Effekt bestmöglich zu erreichen griff ich zu Metallicfarben von Alclad II

---
After finishing the Paintjob with a satisfying result for me, I started to mask and paint the hot section. In order to achieve the best possible metal effect, I used metallic colors from Alclad II
Verwendete Farben / Used Colors
Gloss Black Base ALC-305
Polished Aluminium ALC-105

Dull Aluminium LC-117
Pale Burnt Metal ALC-104
Exhaust Mainfold ALC-123
Transparent Smoke ALC-405
Airframe Aluminium ALC-119
Nachdem die Hauptlackierung am Rumpf und an der Hot-Section abgeschlossen waren, musste die Electronic Bay noch lackiert werden.
---
After the main paint job on the fuselage and the hot section had been completed, the Electronic Bay had to be painted.
---
Als alles soweit maskiert war, überlegte ich mir die Grundlackierung der Electronic Bay mit Airbrush und Alclad Farben zu lackieren. Dazu lackierte zuerst alles mit Interior green welches ich mir selber zusammen mischte.
---
When everything was masked so far, I thought about the primer coating of the Electronic Bay with airbrush and Alclad colors to paint. At first everything was painted with Interior Green which I mixed myself.
Anschließend wurde mit Alclad Chrome ALC-107 lackiert.
---
Then it was painted with Alclad Chrome ALC-107.
---
Nun konnten mit diversen Alcladtönen Details herausgearbeitet werden. Dazu verwendete ich: Dull Aluminium ALC-117 und Pale Burnt Metal ALC-104 sowie eine Mischung aus Dark Wash und Cold Grey Wash von MIG Productions. Ein paar kleine Highlights wurden noch mit Ölfarben von Abteilung 502 gesetzt.
---
Now details could be worked out with various Alcladtones. I used: Dull Aluminum ALC-117 and Pale Burnt Metal ALC-104 and a mix of Dark Wash and Cold Gray Wash from MIG Productions. A few small highlights were still set with oil paints of Abteilung 502.
Nach der Bemalung konnte ich die Maskierung entfernen und die Phantom anschließend mit Klarlack versiegeln, sodass ich langsam aber sicher mit dem Aufbringen der Decals beginnen konnte.
---
After painting, I was able to remove the masking and then seal the phantom with clear paint, so that I could slowly but surely start applying the decals.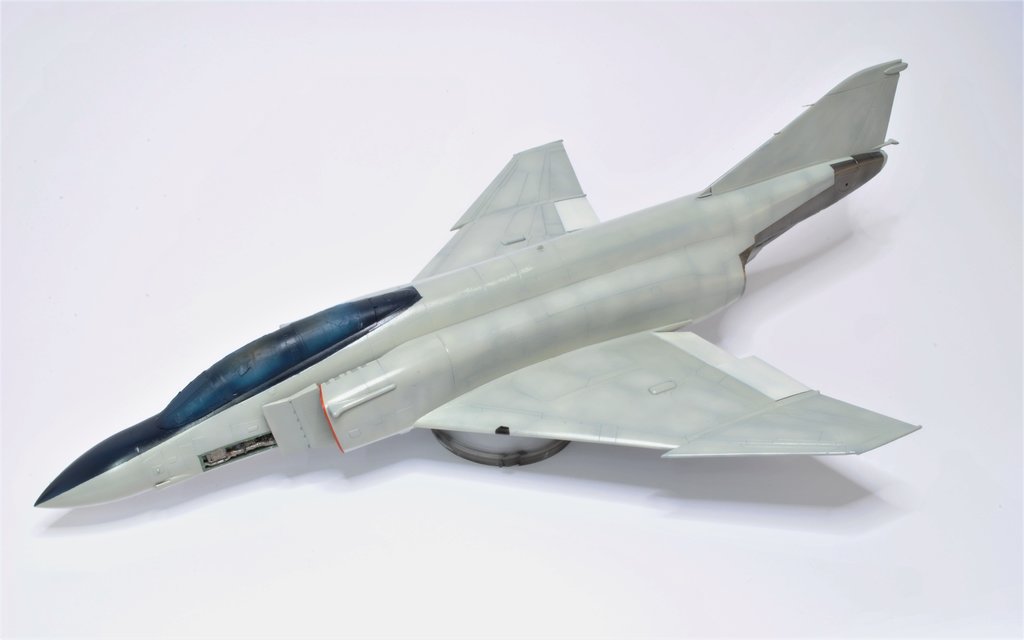 Die Decals aus dem Bausatz lassen sich sehr gut verarbeiten und reagieren sehr schnell auf den Weichmacher. Hier und da muss man bezüglich der Größe etwas nachkorrigieren.
---
The Decals from the kit can be processed very well and react very quickly to the plasticizer. Here and there you have to correct something in size.
Die Decals sind nun alle aufgebracht und wie im letzten Teil dieses Bauberichtes schon erwähnt musste man diese hier und da etwas nachkorrigieren. Nun wurde die Phantom mit Klarlack von Tamiya glänzend versiegelt.
---
The decals are now all applied and as mentioned in the last part of this Photo Build you had to correct this here and there a bit. Now the phantom was sealed with clear coat of Tamiya gloss.
Nachdem ich den Klarlack über Nacht trocknen ließ, konnte ich mit der Alterung beginnen. In diesem Fall habe ich mich für das Cold Grey Wash von MIG Productions entschieden.
---
After drying the clear coat overnight, I started aging. In that case, I chose the Cold Gray Wash from MIG Productions.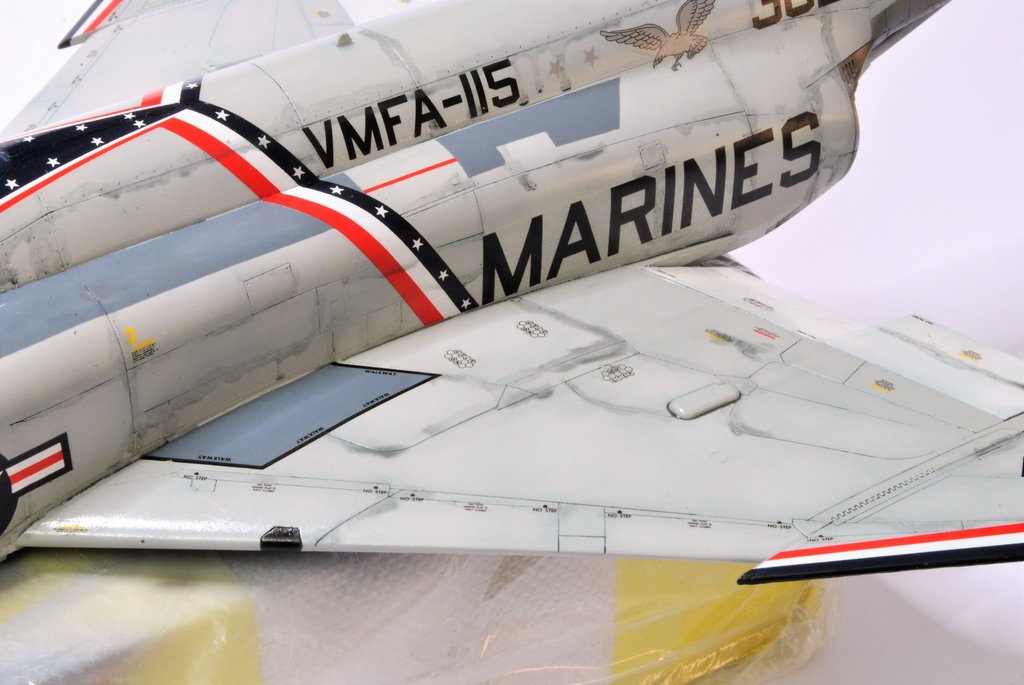 Als Nächstes folgte die Bemalung der Reifen. Für die Bereifung der Phantom griff ich auf Resinreifen von Squadron Products "True Details" zurück. Bezüglich der Bemalung bedarf es meiner Meinung nach keine weiteren Worte.
---
Next came the painting of the tires. For the tires of the Phantom, I resorted to Resin tires of Squadron Products "True Details". Regarding the painting, I do not need any further words.
Als letzten Punkt dieses Bauberichts geht's um die Schleudersitze. Auch hier ließ ich die Sitze aus dem Bausatz weg und bediente mich bei Quickboost die mir sehr schöne Sitze lieferten.
---
The last point of this Photo Build is about the ejection seats. Again, I left the seats from the kit. Quickboost delivered me very nice seats.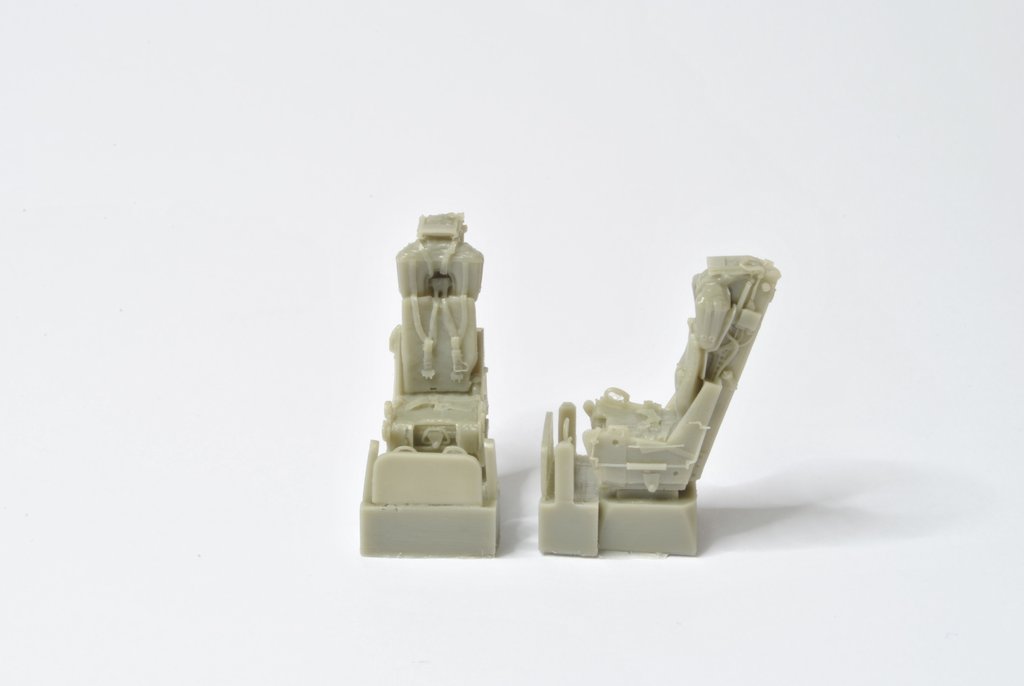 Zum Abschluss ein letztes offizielles Bild vor dem Rollout
---
Finally, a final official picture before the rollout
…..The End…..