Boeing B-52 G 58-0164 "SAC Time" Modelcollect 1/72
Mit der B-52 G von Modelcollect in 1/72 startet Manuel schon bald ein neues Projekt! Um ein korrektes Modell bauen zu können wird neben dem eigentlichen Kit, noch teile aus dem Revellbausatz verwendet. Natürlich dürfen auch hier diverse Zubehörteile nicht fehlen
---
With the B-52 G from Modelcollect in 1/72 Manuel will soon start a new project! In order to build a correct model we will use parts from the Revell kit in addition to the actual kit. Of course there are also some accessories that should not be missing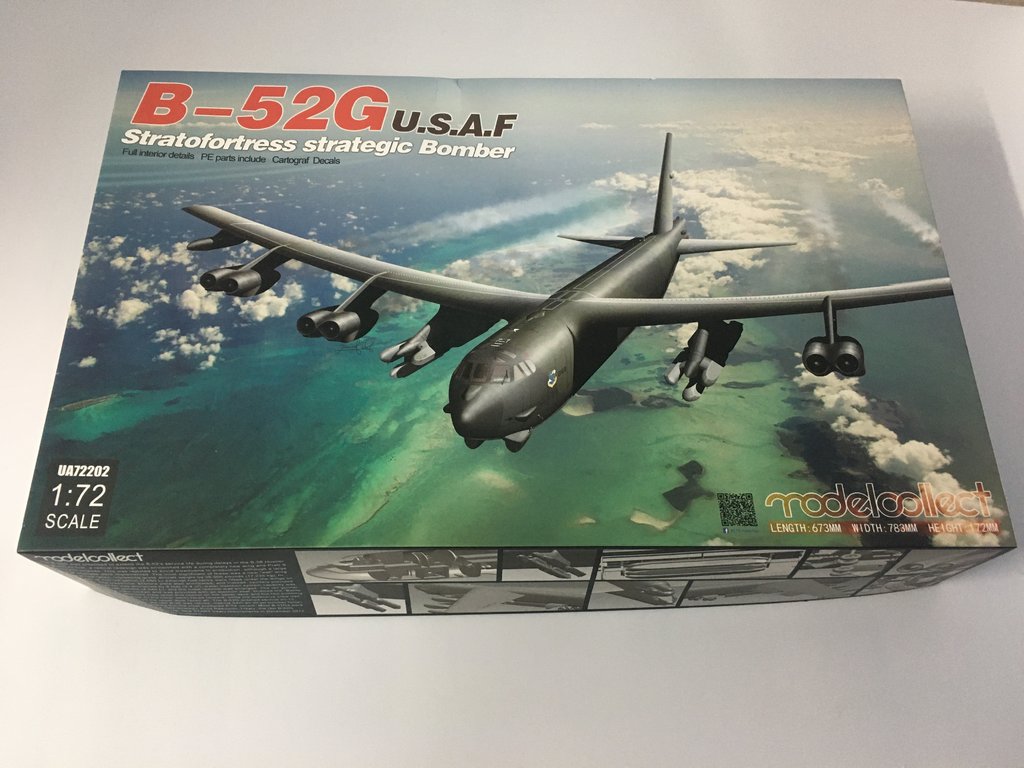 Das Cockpit an sich wurde von Modelcollect sehr schlicht und einfach gehalten. In Anbetracht dessen wurde von meiner Seite her hier keine weitere Detaillierung vorgenommen. Letztlich sind zum Schluss ja nur mehr die vorderen Sitze zu sehen daher wurden diese Sitze mit Gurten aus der Restekiste aufgewertet.
---
The cockpit itself was kept very simple and plain by Modelcollect. Considering this, no further detailing was done from my side. In the end only the front seats can be seen, so these seats were upgraded with belts from the spare box.
Dennoch wollte ich die beiliegende Ätzteilplatine verbauen. Für die Verklebung dieser Platine benutze ich den Ultra Acrylic Glue von Ammo of Mig der sich auch wunderbar für Klarsichtteile einsetzen lässt.
---
Nevertheless I wanted to use the included etched circuit board. To glue this board I use the Ultra Acrylic Glue from Ammo of Mig which is also great for clear parts.
Eines der Hauptmerkmale der B-52 ist die "Stressed Skin" die mir vor Beginn dieses Projekts einiges an Kopfzerbrechen bereitet hat. Unzählige Versuche mit verschiedenen Werkzeugen und Methoden brachten keinen Erfolg. Schließlich folgten Versuche mit einer runden Skalpell Klinge.
---
One of the main features of the B-52 is the "Stressed Skin" which gave me some headaches before starting this project. Countless attempts with different tools and methods did not bring success. Finally, experiments with a round scalpel blade followed.
Das Schwierigste an der ganzen Sache ist der Maßstabseffekt, darum habe ich mich dazu entschlossen, der Außenhaut nur etwas Struktur zu geben. Dazu wurden mit der runden Klinge Furchen in das Material gekratzt und anschließend mit Stahlwolle so lange verschliffen bis ich die gewünschte "Weichheit" der Oberfläche erreicht hatte.
---
The most difficult part of the whole thing is the scale effect, so I decided to just give the outer skin some structure. To do this, I scratched furrows in the material with the round blade and then sanded it with steel wool until I had achieved the desired "softness" of the surface.
Zum Schluss wurde das Cockpit noch in den Rumpf verbaut, die Rumpfhälften verklebt und die Klebenähte verspachtelt und verschliffen.
---
Finally the cockpit was installed in the fuselage, the sections of the fuselage were glued together and the gluing seams were filled and sanded.
Hier sieht man die anfangs erwähnten Sitze mit den Gurten aus der Restekiste.
---
Here you can see the seats mentioned at the beginning with the belts from the spare box.
Nachdem im Cockpit Bereich die "Stressed Skin" bereits erfolgreich nachgebildet wurde, ging es am mittleren Rumpfsegment weiter. Auch hier kam dieselbe Methode zum Einsatz wie vorne.
Anschließend wurde wieder alles mit 2 Sorten Stahlwolle abgemildert.
---
After the "Stressed Skin" had already been successfully reproduced in the cockpit area, the work continued in the middle fuselage segment. The same method was used here as in the front.
Then everything was softened again with 2 types of steel wool.
Beim nächsten Schritt ging es an das Verkleben der einzelnen Rumpfhälften. Da dieses Modell eine stattliche Größe haben wird, ist es hier von Vorteil die einzelnen Segmente zuerst zu verkleben noch bevor die Schalen miteinander verklebt werden. Dies erleichtert die Endmontage erheblich.
---
The next step was to glue the individual halves of the fuselage together. As this model will have a considerable size, it is advantageous to glue the single segments before the shells are glued together. This makes the final assembly much easier.
Weiter ging es mit den Tragflächen, nachdem die Flaps verklebt waren, wurden von mir die Positionslichter mittels Bondic nachgebildet.
Dazu wurde an den Tragflächen die Ecken passend ausgeschnitten und anschließend mit Bondic Flüssigkunststoff aufgefüllt. Zum Schluss wurde der Kunststoff noch mit der dazugehörigen UV-Lampe ausgehärtet. Nach der Aushärtung konnten die Positionslichter sofort verschliffen und poliert werden.
---
I continued with the wings, after the flaps were glued together, I reproduced the position lights with Bondic.
For this purpose the corners of the wings were cut out and then filled with Bondic liquid plastic. Finally, the plastic was cured with the matching UV lamp. After curing, the position lights could be sanded and polished immediately.
Als Nächstes geht es an die Triebwerke, aber dazu mehr im nächsten Teil.
---
The next step was to work on the engines, but more about this in the next part.
To be Continued