Fairchild A-10A «Warthog» Hobby Boss 1/48
Hochmotiviert folgt gleich das nächste Projekt. Dieses Mal wird es ein etwas langsamerer Flieger. Das Projekt dürfte dafür aufgrund des umfangreichen Zubehörs umso länger dauern. Gebaut wird die A-10A «Thunderbolt II» von Hobby Boss im Massstab 1:48. Die Decalveriante werde ich bis zum Beginn der Lackierung mal noch offenlassen, da ich noch nicht sicher bin, ob ich die Decals, die ich schon habe, verwenden werde. Sicher ist, dass es keine Grüne, sondern eine graue Maschine wird.
---
Highly motivated, the next project follows. This time it will be a slower plane. The project should take even longer due to the extensive accessories. The A-10A "Thunderbolt II" will be built by Hobby Boss in scale 1:48. I will leave the decalveriante open until the beginning of the painting because I am not sure if I will use the decals I already have. What's certain is that it won't be a green machine, but a grey one.
Wie erwähnt bildet die A-10 von Hobby Boss die Basis. Wenn man den Meinungen im Internet Glauben schenkt, ist dies der zurzeit beste Kit der A-10 in diesem Massstab.
---
As mentioned, the A-10 from Hobby Boss forms the base. If you believe the opinions on the internet, this is the best kit of the A-10 on this scale at the moment.
Für den Fall, dass ich die Decals nutze, habe ich Decals für in Spangdahlem stationierte A-10 von Astra-Decals. Da diese von Cartograf gedruckt sind, dürfte die Qualität stimmen. Eventuell lege ich mir aber auch nochmals andere Decals zu.
---
In case I use the decals, I have decals for A-10 from Astra-Decals stationed in Spangdahlem. They are printed by Cartograf, so the quality should be right. Maybe I'll get some other decals as well.
Ein wenig Masochismus ist auch mit dabei, da ich vorhabe, das BigEd-Set von Eduard zu verwenden.
---
There is also a little masochism in it, as I intend to use Eduard's BigEd set.
Weiteres Zubehör sind die Räder von True Details, die Geschützläufe von Master sowie ein Sniper XR-Pod von Wolfpack. Bei letzterem bin ich mir noch nicht sicher, ob ich den verwenden kann oder ob dieser an der A-10A noch nicht und erst an der späteren D zum Einsatz kam.
---
Other accessories include True Details wheels, Master gun barrels and a Sniper XR pod from Wolfpack. With the last one I'm not yet sure if I can use it or if it wasn't used on the A-10A yet and only on the later D.
Vorbildmaterial darf natürlich auch nicht fehlen.
---
Of course, reference material should not be missing.
Hinzu kommt noch ein Resinsitz von Neomega, der aber noch nicht bei mir eingetroffen ist sowie Raketen von Eduard Brassin, falls mir die von Hobby Boss nicht gefallen.
---
There is also a resin seat from Neomega, which I haven't received yet, and rockets from Eduard Brassin, if I don't like the ones from Hobby Boss.
Wie jeder Bau begann auch die A-10 wieder mit dem Cockpit. Um etwas mehr Details in den eigentlich recht gut detaillierten Arbeitsplatz des Piloten zu bekommen, entschloss ich mich, den Schleudersitz durch einen aus Resin von Neomega zu ersetzen, welchen es zunächst einzupassen galt.
---
Like every build the A-10 started with the cockpit. In order to get some more details into the pilot's workstation I decided to replace the ejection seat with a resin one from Neomega, which had to be fitted first.
Anschliessend wurde das Cockpit bemalt und mit den Ätzteilen von Eduard aufgewertet.
---
The cockpit was then painted and upgraded with Eduard's etched parts.
Ebenso wurde der Schleudersitz bemalt.
---
The ejection seat was also painted.
Bevor der Rumpf zusammengebaut werden konnte, bekam auch der Bugfahrwerkschacht Farbe. Auf zusätzliche Detaillierung wurde hier verzichtet, da der Schacht später sowieso kaum noch einsehbar ist.
---
Before the fuselage could be assembled, the nose gear bay also got some paint. Additional detailing was omitted here, as the shaft is not visible later anyway.
Die Passzapfen der Rumpfschalen passten nicht optimal zueinander. Aus diesem Grund wurden diese abgeschnitten und stattdessen Sheetstücke eingeklebt.
---
The fitting pins of the fuselage shells did not fit together optimally. For this reason, they were cut off and sheet pieces were glued in instead.
Der Rumpf passte auf der Oberseite recht gut zusammen. Auf der Unterseite ging es aber nicht ohne Spachtelmasse.
---
The fuselage fitted together quite well on the upper side. On the underside, however, it was not possible without putty.
Überhaupt nicht passen wollte das Vorderteil der Unterseite mit dem Fahrwerkschacht, welcher an einer Stelle rund einen Millimeter zu schmal war.Um dies auszugleichen, wurde zunächst mit Sheetstücken aufgefüttert, die Spalte anschliessend mit Sekundenkleber ausgefüllt und schliesslich alles verspachtelt.
---
The front part of the underside with the landing gear bay, which was about one millimetre too small at one point, did not want to fit at all, and in order to compensate for this, sheet pieces were first filled in, then the gaps were filled with superglue and finally everything was filled.
Glücklicherweise passte die gegenüber liegende Seite.
---
Fortunately, the opposite side fitted.
Einige Schleifdurchgänge später war das Problem behoben.
---
A few grinding passes later the problem was solved.
Nachdem der Rumpf zusammengebaut, verspachtelt und verschliffen war, ging es weiter mit der Detaillierung mit Ätzteilen.
---
After the fuselage was assembled, filled and sanded, the detailing with etched parts continued.
Ein weiteres kleines Detail wurde mit einer Aderendhülse hinzugefügt.
---
Another small detail was added with a ferrule.
Vor der Detaillierung der Hauptfahrwerkschächte wurden die Strukturen entfernt und die Oberfläche danach mit Tamiya extra thin geglättet.
---
Before detailing the main landing gear shafts, the structures were removed and the surface smoothed with Tamiya extra thin.
Die Ätzteile werten den ansonsten fast leeren Fahrwerkschacht zweifellos auf.
---
The etched parts undoubtedly enhance the otherwise almost empty landing gear shaft.
Die fertigen Teile beider Fahrwerkschächte.
---
The finished parts of both landing gear shafts.
Danach wurde schwarz grundiert und weiss lackiert. Die Detailbemalung und die Alterung fehlen auf dem Bild noch.
---
Afterwards it was primed black and painted white. The detail painting and the aging are still missing on the picture.
Zwischenzeitlich wurde auch das Innere der Triebwerke zusammengebaut und bemalt. Da man davon nach dem Zusammenbau der Triebwerksgondeln kaum noch etwas sieht, wurde auf eine Detailbemalung und Alterung verzichtet.
---
In the meanwhile also the inside of the engines was assembled and painted. After assembling the engine nacelles, you can hardly see anything of it, so no detailed painting or aging was done.
Die Triebwerksschaufeln wurden mit Alclad Steel lackiert. Später kommen noch Trockenbemalung und Washing dazu.
---
The engine blades were painted with Alclad Steel. Later also dry painting and washing.
Dem schönen Sommerwetter geschuldet, geht es derzeit kaum voran. Dennoch gab es seit dem letzten Update wieder einige Fortschritte: Nachdem der Rumpf zusammengebaut, verspachtelt und verschliffen war, ging es weiter mit der Detaillierung mit Ätzteilen.
Zum einen sind die mit Ätzteilen bestückten Hauptfahrwerkschächte fertig geworden. Diese waren schwierig zusammenzubauen, aber die so hinzugefügten Details waren den Aufwand wert.
---
Due to the beautiful summer weather, things are hardly progressing at the moment. Nevertheless there has been some progress since the last update: After the hull was assembled, filled and sanded, the detailing with etched parts continued.

On the one hand, the main landing gear shafts equipped with etched parts were finished. These were difficult to assemble, but the added details were worth the effort.
An der Rumpfoberseite mussten die Formationslichter nochmals versetzt werden, damit sie einen rechten Winkel bilden.
---
At the top of the fuselage the formation lights had to be moved again to form a right angle.
Dann erfolgte der Anbau der Tragflächen. Die Passung war nur mittelmässig.
---
Then the wings were attached. The fit was just poor.
Grössere Passungenauigkeiten gab es an den Triebwerken.
---
There were larger fitting inaccuracies at the engines.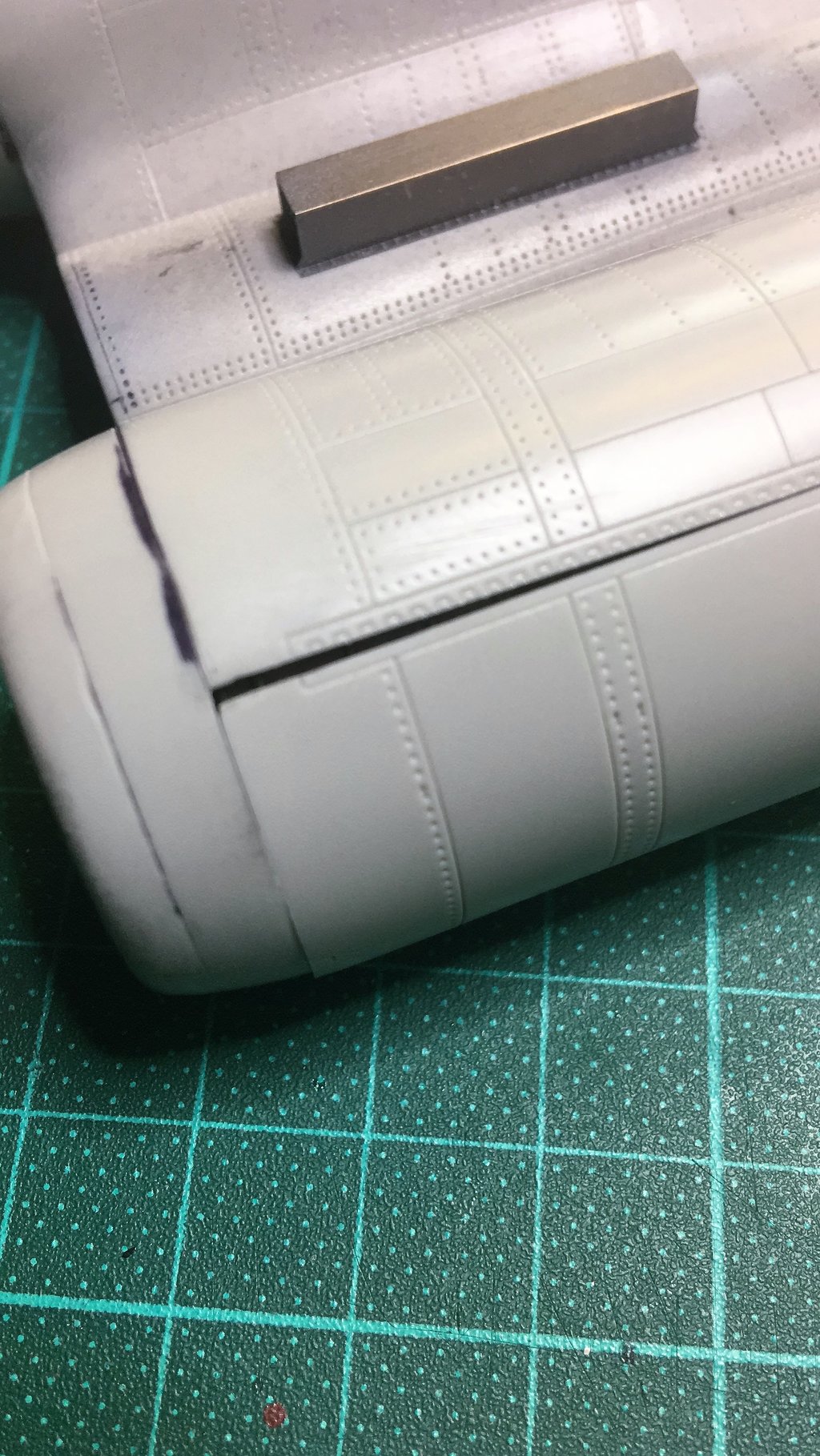 Hinzubekommen war dies nur mit Verklebung unter Spannung, Plastiksheet, Spachtel und Sekundenkleber.
---
This was only possible with tensioned gluing, plastic sheet, putty and superglue.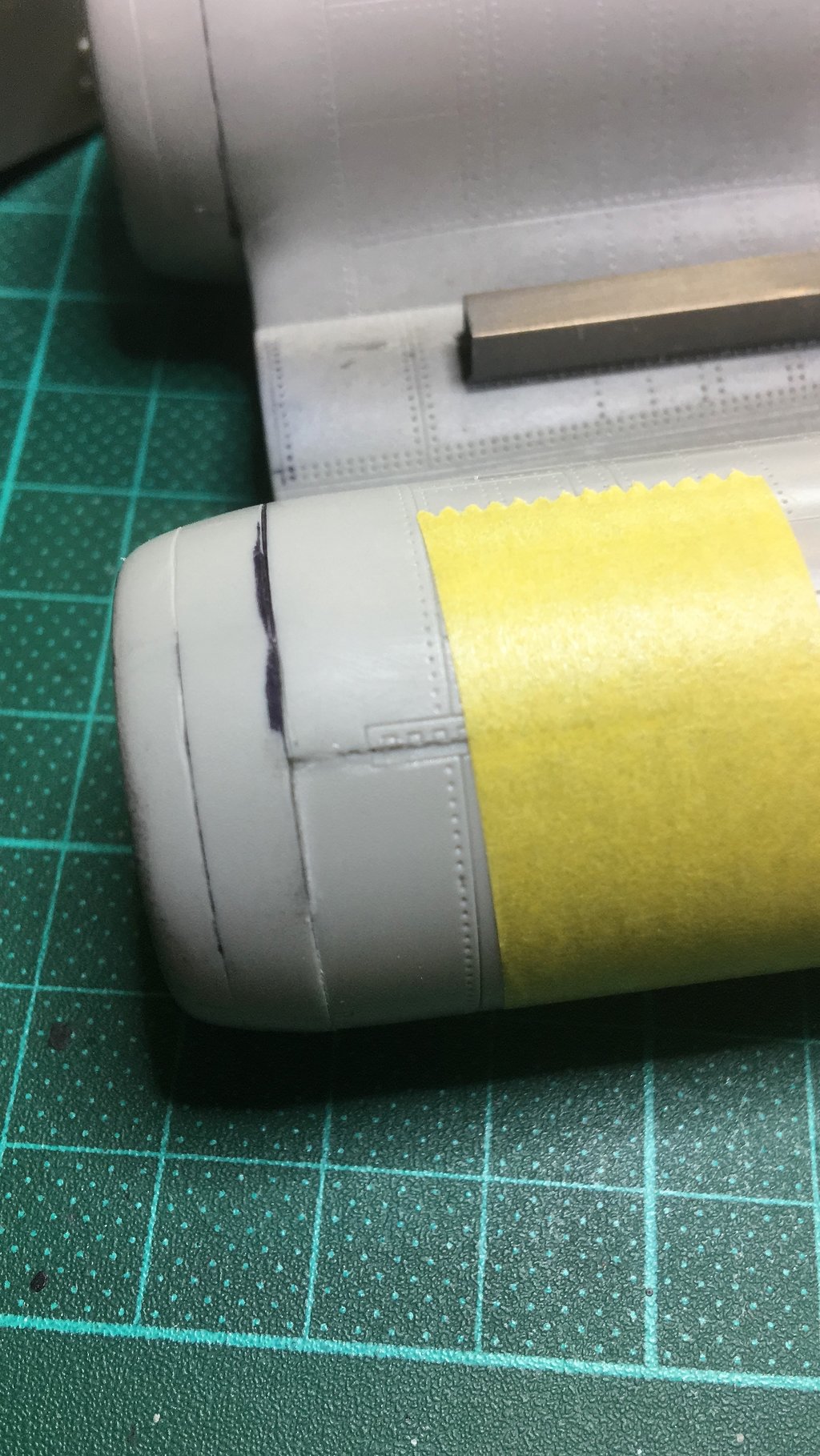 Inzwischen ist der Rohbau abgeschlossen.
---
In the meantime, the shell of the building has been completed.
Die vielen Waffenträger wurden auch schon angebaut.
---
The many weapon racks were also already attached.
To be continued……..