Grumman F-14A Tomcat "John F. Kennedy" VF-32 Swordsmen, 1976
Auch nach dem die F-16 Dark Viper fertig in der Vitrine steht, geht eswieder ohne Unterbruch mit dem nächsten Projekt weiter. Gebaut wird der qualitativ hochwertige F-14A-Bausatz von Tamiya im Maßstab 1:48 als Flieger der VF-32 Swordsmen, wie er 1976 auf dem FlugzeugträgerJohn F. Kennedy im Einsatz stand.
---
Even after the F-16 Dark Viper is finished in the showcase, it continues without interruption with the next project. The high-quality 1:14 scale F-14A kit from Tamiya is being built as a VF-32 Swordsmen aircraft, as used in 1976 on aircraft carrier John F. Kennedy.
Wie erwähnt bildet die F-14A von Tamiya die Basis. Der Kit ist gilt als sehr gut und bedarf daher nur wenig Zubehör.
---
As mentioned, Tamiya's F-14A forms the base. The kit is considered very good and therefore requires only a few accessories.
Die Decals für die Swordsmen kommen von Furball Aero Design und dürften daher hochwertig und akkurat sein.
---
The decals for the Swordsmen come from Furball Aero Design and should therefore be high quality and accurate.
Ein klein wenig weiteres Zubehör werde ich trotz der Qualität des Bausatzes dennoch verwenden: Die Bugspitze von Master, Räder von Eduard und der komplette Maskensatz von New Ware Masks. Eventuell kommen noch Resin-Raketen aus dem Eduard BigSin-Set dazu. Dies ist aber davon abhängig, wie die Raketen aus dem Kit aussehen.
---
Despite the quality of the kit, I will still be using a small amount of other accessories: the nose of Master, Eduard wheels and the complete mask set by New Ware Masks. Possibly come Resin rockets from the Eduard BigSin set. But this depends on how the rockets look from the kit.
Vorbildmaterial darf natürlich auch nicht fehlen.
---
Of course, references should not be missing.
Wie bei den meisten Projekten beinhaltete auch bei der Tomcat die erste Etappe wieder das Cockpit. Aufgrund der recht guten Detaillierung und den später folgenden Pilotenfiguren habe ich bewusst auf ein Resincockpit verzichtet.
Nach der schwarzen Alclad-Grundierung und der Basislackierung mit aufgehelltem Mr. Hobby H 317, folgte die Abklebearbeit für die schwarzen Panels und die Textilverkleidungen,etc.
---
As with most projects, the first leg of the Tomcat once again included the cockpit. Due to the very good detailing and the following pilot figures, I have deliberately renounced a Resincockpit.
After the black Alclad primer and the base coat with lightened Mr. Hobby H 317, the masking work starts for the black panels and the textile coverings, etc.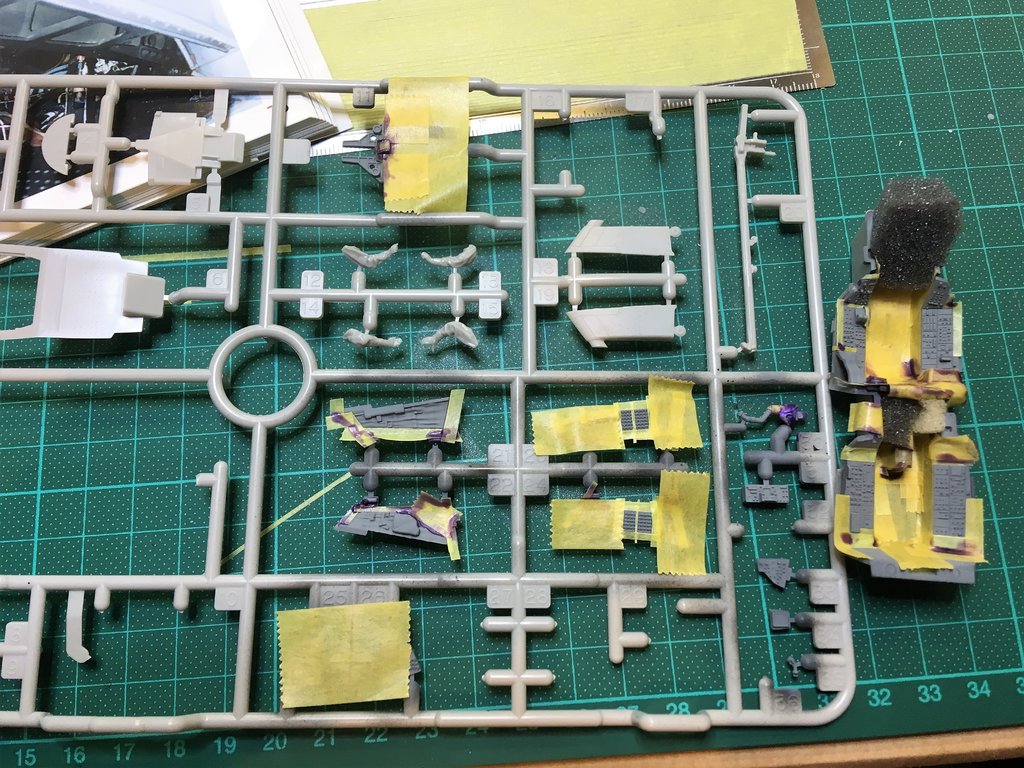 Die Cockpitwanne mit den schwarzen Panels nach der Demaskierung.
---
The cockpit bucket with the black panels after unmasking.
Die Textilverkleidungen der Seitenwände wurden mit leicht abgedunkeltem Mr. Hobby H 317 lackiert. Auf dem Bild haben sie bereits ein Washing erhalten.
---
The textile coverings of the side walls were painted with slightly darkened Mr.Hobby H 317. In the picture you already got a washing.
Das Instrumentenbrett des vorderen Cockpits wurde mit dem Pinsel handbemalt, da hier ein Abkleben kaummöglich war.
---
The instrument panel of the front cockpit was painted by hand with a brush, as it could hardly be masked.
Vorderes Instrumentenbrett und Rückwand des Cockpits erhielten auch eine Trockenbemalung.
---
Front dashboard and cockpit back wall also received a dry paint.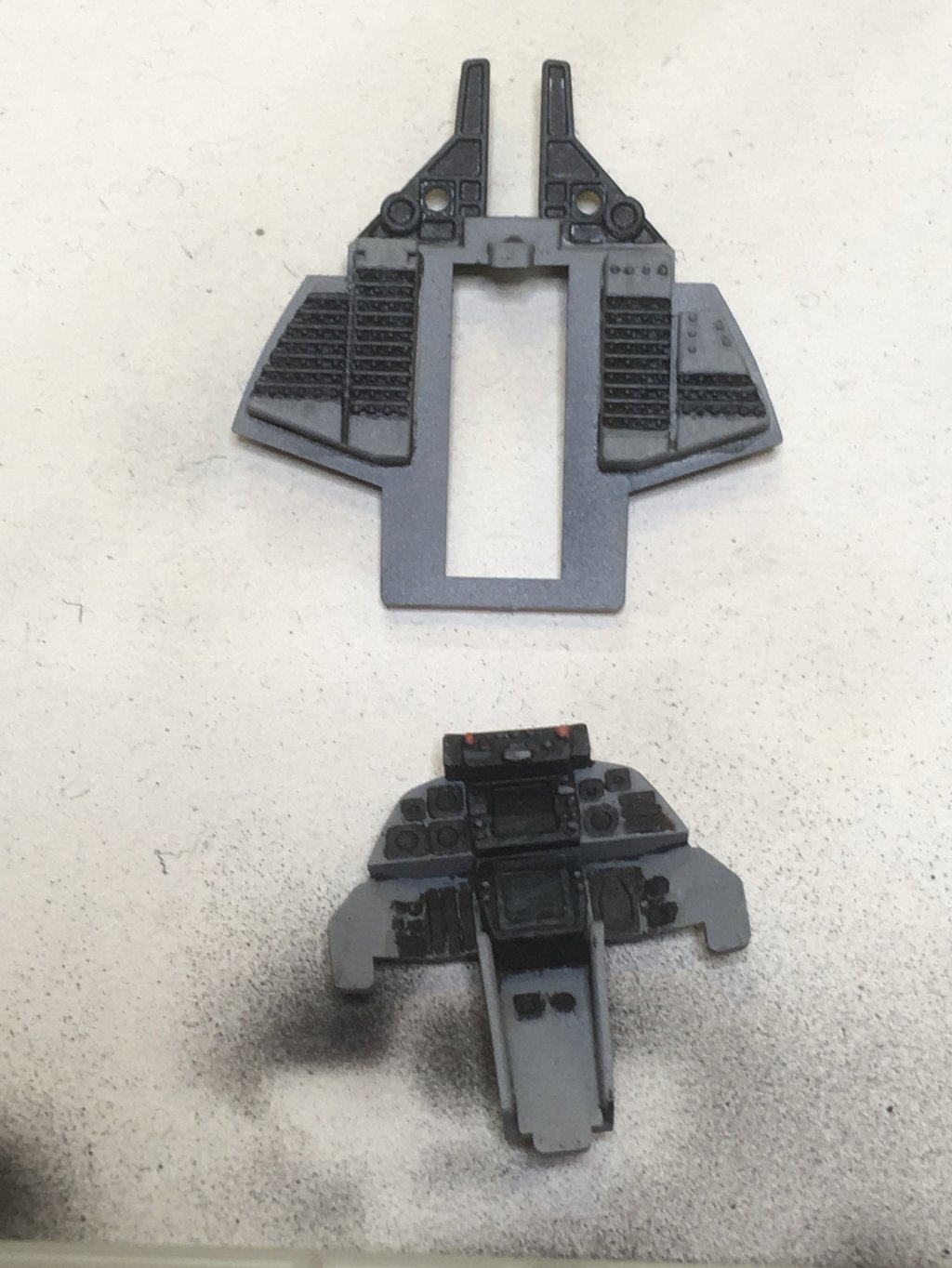 Die Cockpitwanne nach der Detailbemalung, Washing und Trockenbemalung. Für die Feinbemalungder Schalter und Knöpfe kamen die sehr empfehlenswerten und hochwertigen Pinsel von Abteilung 502 zum Einsatz.
---
The cockpit tub after the detail painting, Washing and dry painting. For the fine painting of the switches and buttons, the highly recommended and high-quality brushes of Abteilung 502 were used.
Und hier ein paar Fotos des fertigen Cockpits inkl. Seitenteile. Die Sitze und Piloten kommen erst späteran die Reihe.
---
And here are a few photos of the finished cockpit including side panels. The seats and pilots will come later.
Nach dem Cockpit ging es mit dem vorderen Fahrwerkschacht weiter. Aufgrund der exzellenten Passgenauigkeit konnten die einzelnen Teile problemlos vor dem Zusammenbau lackiert werden. Zunächst wurde alles schwarz grundiert, um beim anschliessenden Weiss mehr Tiefe zu erhalten.
---
After the cockpit, it continued with the front Wheelbay. Due to the excellent accuracy of fit, the individual parts can be easily painted before assembly. At first everything was black primed to get more depth in the following white.
Darauf folgte die eigentliche Lackierung im für amerikanische Flieger üblichen weiss.
---
This was followed by the actual livery in white, which is common for American aviation.
Die Bemalung von Details wie einigen Leitungen etc. erfolgte mit dem Pinsel.
---
The painting of details such as some lines, etc. was done with the brush.
Die Bemalung von Details wie einigen Leitungen etc. erfolgte mit dem Pinsel.Nach einer Schicht glänzenden Klarlacks wurde ein Washing aufgetragen, um dem Fahrwerkschacht einen etwas verschmutzten Look zu verleihen.
---
The painting of details such as some lines, etc. was done with the brush. After a layer of glossy clearcoat, a washing was applied to give the landing gear a somewhat dirty look.
Hier der fertige Fahrwerkschacht. Der silberfarbene Bereich am Aktuator des Fahrwerks wurde mit Bare Metal Foil «Chrome» überzogen.
---
Here is the finished Wheelbay. The silver-colored area on the Landing gear actuator was covered with Bare Metal Foil "Chrome".
Wegen des durch die Öffnung sichtbaren, in Gun Metal lackierten Vorderteils der Kanone wurde der Bereich um die Kanonenmündung schon vor dem Zusammenbau des Vorderrumpfes mit Alclad Steel lackiert.
---
Because of the visible through the opening, painted in gun metal front part of the cannon, the area around the cannon mouth was painted before the assembly of the front fuselage with Alclad Steel.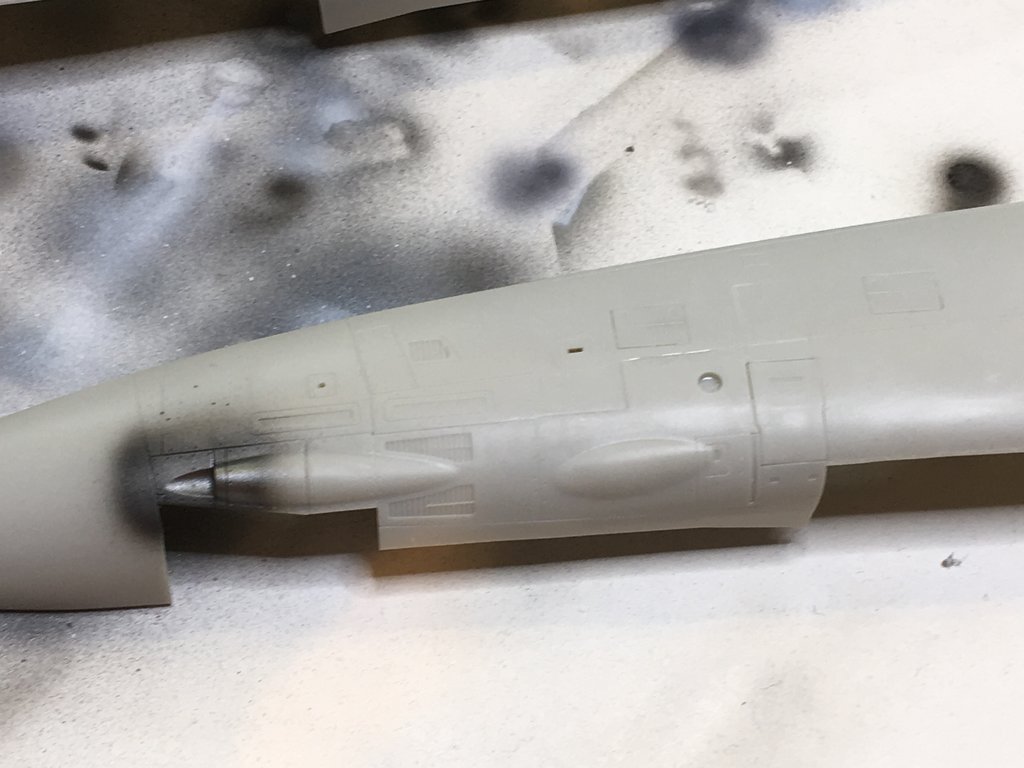 Weil ich gerade mit Alclad arbeitete, wurden auch schon die Teile der Nozzle grundiert, bzw. mit der Grundfarbe lackiert. An der Nozzle selbst geht es erst später weiter.
---
Because I just worked with Alclad, the parts of the Nozzle were already primed, or painted with the base color. At the Nozzle itself it will continue later.
Schliesslich wurde der Vorderrumpf mit Cockpit und Fahrwerkschacht zusammengeklebt. Aufgrund der sehr guten Passung musste die Klebenaht lediglich verschliffen und Poliert werden. Spachtel kam nicht zum Einsatz.
Neben dem Vorderrumpf ist die mit Tire Black lackierte Abdeckung des Cockpits zu sehen.
---
Finally, the front fuselage was glued to the cockpit and axle suspension. Due to the very good fit, the glued seam only had to be sanded and polished. Putty was not used.
Next to the front fuselage, the cover of the cockpit painted with Tire Black can be seen.
Bevor es mit der Montage des hinteren Rumpfsegmentes weitergehen konnte, kamen die Hauptfahrwerkschächte an die Reihe. Die wichtigsten Leitungen wurden mit Bleidraht von Plusmodel nachdetailliert.
---
Before it could continue with the assembly of the rear fuselage segment, the main landing gear Wheelbays came to the series. The most important lines were detailed with lead wire from Plusmodel.
Nach schwarzer Grundierung erfolgte wieder die Lackierung mit weiss.
---
After black priming the painting was done with white again.
Als nächstes wieder glänzender Klarlack und ein dunkles Washing.
---
Next again Gloss clear coat and a dark washing.
Die übrigen Teile des Hauptfahrwerkschachtes wurden auf die gleiche Art und Weise bemalt. Hier die fertigen Teile.
---
The remaining parts of the main landing wheelbay were painted in the same way. Here are the finished parts.
Ebenso zum unteren Rumpfsegment gehörten die Intake-Rampen. Diese wurden ebenfalls erst schwarz grundiert und dann weiss matt bemalt. Allerdings wurden sie, um den hohen Verschmutzungsgrad der Intakes besser darstellen zu können, vor dem Washing auf die glänzende Schicht Klarlack verzichtet, sodass mehr davon an der Farbe haften bleibt.
---
Likewise to the lower fuselage segment included the Intake ramps. These were also first primed black and then painted white matt. However, in order to be able to better represent the high degree of soiling of the intakes, they did not use the glossy clear coat before washing, so more of them stick to the paint.
Das fertige untere Rumpfsegment mit den Fahrwerkschächten und den Leitblechen.
---
The finished lower fuselage segment with the landing gear shafts and the baffles.
Am oberen Segment erfolgte die Montage von Vorder- und Hinterteil. Nun steht dem Zusammenbau des Hinterrumpfes nichts mehr im Weg.
---
At the upper segment, the front and rear parts were assembled. Now nothing stands in the way of assembling the rear fuselage
To be Continued……….