Grumman F-14A Tomcat "John F. Kennedy" VF-32 Swordsmen, 1976
Auch nach dem die F-16 Dark Viper fertig in der Vitrine steht, geht eswieder ohne Unterbruch mit dem nächsten Projekt weiter. Gebaut wird der qualitativ hochwertige F-14A-Bausatz von Tamiya im Maßstab 1:48 als Flieger der VF-32 Swordsmen, wie er 1976 auf dem FlugzeugträgerJohn F. Kennedy im Einsatz stand.
---
Even after the F-16 Dark Viper is finished in the showcase, it continues without interruption with the next project. The high-quality 1:14 scale F-14A kit from Tamiya is being built as a VF-32 Swordsmen aircraft, as used in 1976 on aircraft carrier John F. Kennedy.
Wie erwähnt bildet die F-14A von Tamiya die Basis. Der Kit ist gilt als sehr gut und bedarf daher nur wenig Zubehör.
---
As mentioned, Tamiya's F-14A forms the base. The kit is considered very good and therefore requires only a few accessories.
Die Decals für die Swordsmen kommen von Furball Aero Design und dürften daher hochwertig und akkurat sein.
---
The decals for the Swordsmen come from Furball Aero Design and should therefore be high quality and accurate.
Ein klein wenig weiteres Zubehör werde ich trotz der Qualität des Bausatzes dennoch verwenden: Die Bugspitze von Master, Räder von Eduard und der komplette Maskensatz von New Ware Masks. Eventuell kommen noch Resin-Raketen aus dem Eduard BigSin-Set dazu. Dies ist aber davon abhängig, wie die Raketen aus dem Kit aussehen.
---
Despite the quality of the kit, I will still be using a small amount of other accessories: the nose of Master, Eduard wheels and the complete mask set by New Ware Masks. Possibly come Resin rockets from the Eduard BigSin set. But this depends on how the rockets look from the kit.
Vorbildmaterial darf natürlich auch nicht fehlen.
---
Of course, references should not be missing.
Wie bei den meisten Projekten beinhaltete auch bei der Tomcat die erste Etappe wieder das Cockpit. Aufgrund der recht guten Detaillierung und den später folgenden Pilotenfiguren habe ich bewusst auf ein Resincockpit verzichtet.
Nach der schwarzen Alclad-Grundierung und der Basislackierung mit aufgehelltem Mr. Hobby H 317, folgte die Abklebearbeit für die schwarzen Panels und die Textilverkleidungen,etc.
---
As with most projects, the first leg of the Tomcat once again included the cockpit. Due to the very good detailing and the following pilot figures, I have deliberately renounced a Resincockpit.
After the black Alclad primer and the base coat with lightened Mr. Hobby H 317, the masking work starts for the black panels and the textile coverings, etc.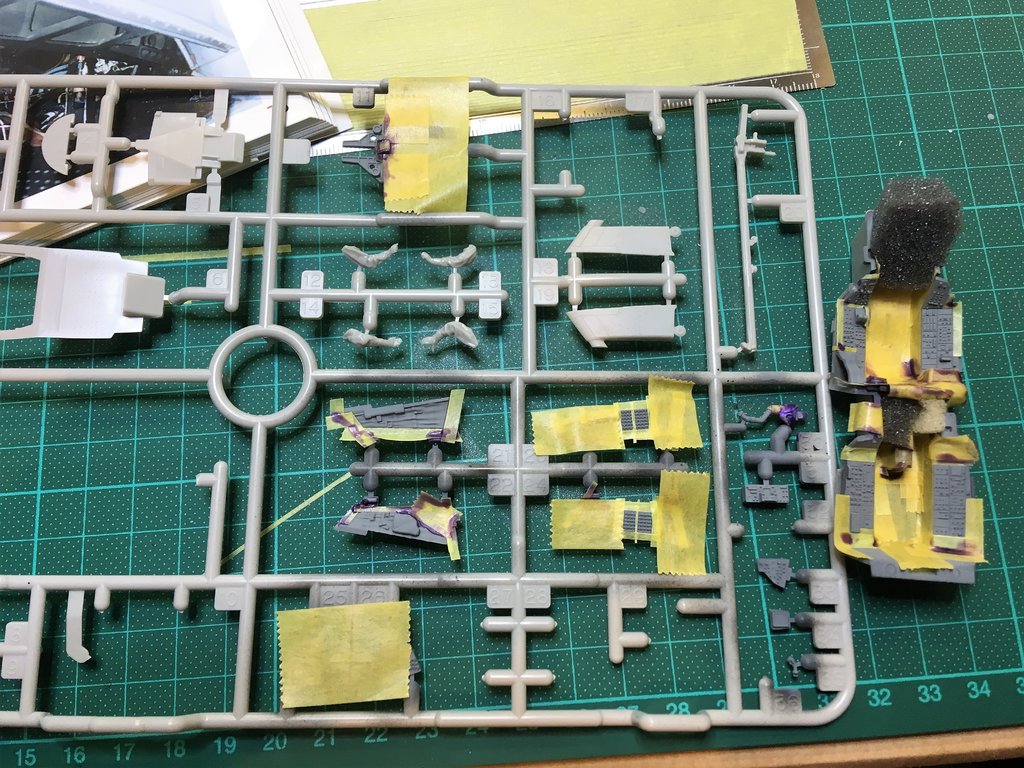 Die Cockpitwanne mit den schwarzen Panels nach der Demaskierung.
---
The cockpit bucket with the black panels after unmasking.
Die Textilverkleidungen der Seitenwände wurden mit leicht abgedunkeltem Mr. Hobby H 317 lackiert. Auf dem Bild haben sie bereits ein Washing erhalten.
---
The textile coverings of the side walls were painted with slightly darkened Mr.Hobby H 317. In the picture you already got a washing.
Das Instrumentenbrett des vorderen Cockpits wurde mit dem Pinsel handbemalt, da hier ein Abkleben kaummöglich war.
---
The instrument panel of the front cockpit was painted by hand with a brush, as it could hardly be masked.
Vorderes Instrumentenbrett und Rückwand des Cockpits erhielten auch eine Trockenbemalung.
---
Front dashboard and cockpit back wall also received a dry paint.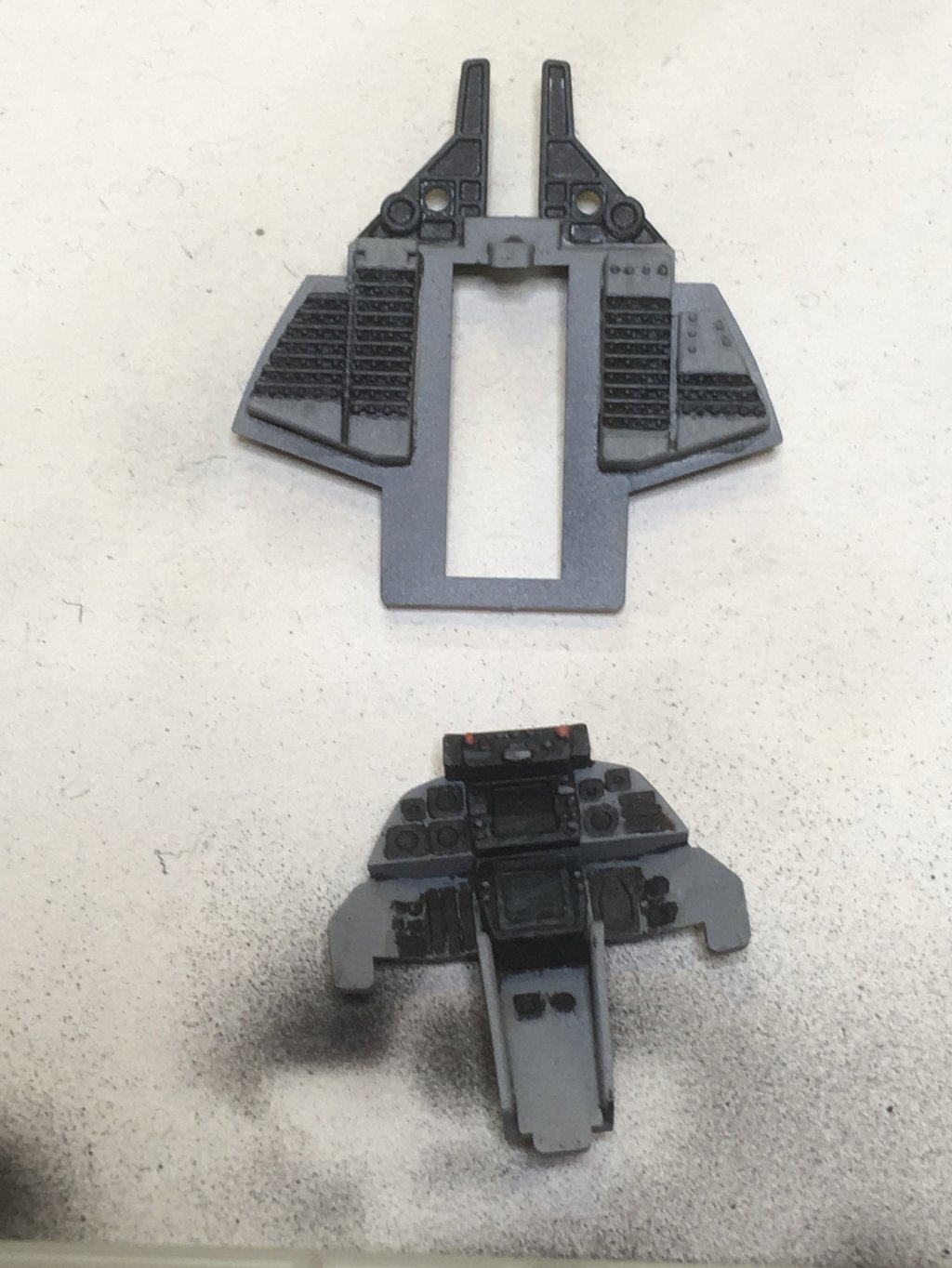 Die Cockpitwanne nach der Detailbemalung, Washing und Trockenbemalung. Für die Feinbemalungder Schalter und Knöpfe kamen die sehr empfehlenswerten und hochwertigen Pinsel von Abteilung 502 zum Einsatz.
---
The cockpit tub after the detail painting, Washing and dry painting. For the fine painting of the switches and buttons, the highly recommended and high-quality brushes of Abteilung 502 were used.
Und hier ein paar Fotos des fertigen Cockpits inkl. Seitenteile. Die Sitze und Piloten kommen erst späteran die Reihe.
---
And here are a few photos of the finished cockpit including side panels. The seats and pilots will come later.
Nach dem Cockpit ging es mit dem vorderen Fahrwerkschacht weiter. Aufgrund der exzellenten Passgenauigkeit konnten die einzelnen Teile problemlos vor dem Zusammenbau lackiert werden. Zunächst wurde alles schwarz grundiert, um beim anschliessenden Weiss mehr Tiefe zu erhalten.
---
After the cockpit, it continued with the front Wheelbay. Due to the excellent accuracy of fit, the individual parts can be easily painted before assembly. At first everything was black primed to get more depth in the following white.
Darauf folgte die eigentliche Lackierung im für amerikanische Flieger üblichen weiss.
---
This was followed by the actual livery in white, which is common for American aviation.
Die Bemalung von Details wie einigen Leitungen etc. erfolgte mit dem Pinsel.
---
The painting of details such as some lines, etc. was done with the brush.
Die Bemalung von Details wie einigen Leitungen etc. erfolgte mit dem Pinsel.Nach einer Schicht glänzenden Klarlacks wurde ein Washing aufgetragen, um dem Fahrwerkschacht einen etwas verschmutzten Look zu verleihen.
---
The painting of details such as some lines, etc. was done with the brush. After a layer of glossy clearcoat, a washing was applied to give the landing gear a somewhat dirty look.
Hier der fertige Fahrwerkschacht. Der silberfarbene Bereich am Aktuator des Fahrwerks wurde mit Bare Metal Foil «Chrome» überzogen.
---
Here is the finished Wheelbay. The silver-colored area on the Landing gear actuator was covered with Bare Metal Foil "Chrome".
Wegen des durch die Öffnung sichtbaren, in Gun Metal lackierten Vorderteils der Kanone wurde der Bereich um die Kanonenmündung schon vor dem Zusammenbau des Vorderrumpfes mit Alclad Steel lackiert.
---
Because of the visible through the opening, painted in gun metal front part of the cannon, the area around the cannon mouth was painted before the assembly of the front fuselage with Alclad Steel.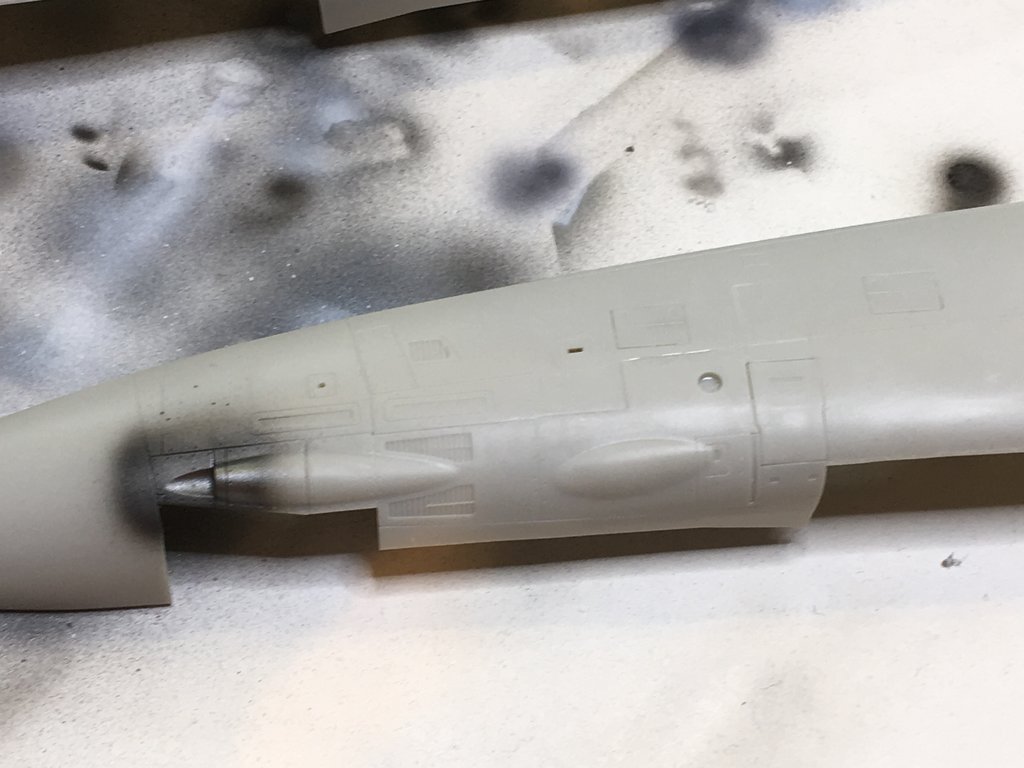 Weil ich gerade mit Alclad arbeitete, wurden auch schon die Teile der Nozzle grundiert, bzw. mit der Grundfarbe lackiert. An der Nozzle selbst geht es erst später weiter.
---
Because I just worked with Alclad, the parts of the Nozzle were already primed, or painted with the base color. At the Nozzle itself it will continue later.
Schliesslich wurde der Vorderrumpf mit Cockpit und Fahrwerkschacht zusammengeklebt. Aufgrund der sehr guten Passung musste die Klebenaht lediglich verschliffen und Poliert werden. Spachtel kam nicht zum Einsatz.
Neben dem Vorderrumpf ist die mit Tire Black lackierte Abdeckung des Cockpits zu sehen.
---
Finally, the front fuselage was glued to the cockpit and axle suspension. Due to the very good fit, the glued seam only had to be sanded and polished. Putty was not used.
Next to the front fuselage, the cover of the cockpit painted with Tire Black can be seen.
Bevor es mit der Montage des hinteren Rumpfsegmentes weitergehen konnte, kamen die Hauptfahrwerkschächte an die Reihe. Die wichtigsten Leitungen wurden mit Bleidraht von Plusmodel nachdetailliert.
---
Before it could continue with the assembly of the rear fuselage segment, the main landing gear Wheelbays came to the series. The most important lines were detailed with lead wire from Plusmodel.
Nach schwarzer Grundierung erfolgte wieder die Lackierung mit weiss.
---
After black priming the painting was done with white again.
Als nächstes wieder glänzender Klarlack und ein dunkles Washing.
---
Next again Gloss clear coat and a dark washing.
Die übrigen Teile des Hauptfahrwerkschachtes wurden auf die gleiche Art und Weise bemalt. Hier die fertigen Teile.
---
The remaining parts of the main landing wheelbay were painted in the same way. Here are the finished parts.
Ebenso zum unteren Rumpfsegment gehörten die Intake-Rampen. Diese wurden ebenfalls erst schwarz grundiert und dann weiss matt bemalt. Allerdings wurden sie, um den hohen Verschmutzungsgrad der Intakes besser darstellen zu können, vor dem Washing auf die glänzende Schicht Klarlack verzichtet, sodass mehr davon an der Farbe haften bleibt.
---
Likewise to the lower fuselage segment included the Intake ramps. These were also first primed black and then painted white matt. However, in order to be able to better represent the high degree of soiling of the intakes, they did not use the glossy clear coat before washing, so more of them stick to the paint.
Das fertige untere Rumpfsegment mit den Fahrwerkschächten und den Leitblechen.
---
The finished lower fuselage segment with the landing gear shafts and the baffles.
Am oberen Segment erfolgte die Montage von Vorder- und Hinterteil. Nun steht dem Zusammenbau des Hinterrumpfes nichts mehr im Weg.
---
At the upper segment, the front and rear parts were assembled. Now nothing stands in the way of assembling the rear fuselage
Bevor der Rumpf nun endlich zusammengefügt werden konnte, galt es noch, die Intakes fertig zu machen. Dank der hervorragenden Passgenauigkeit war das kein Problem und es musste nicht gespachtelt werden. Hier der fertig bemalte und gealterte hintere Teil des Intake-Tunnels.
---
Before the fuselage could finally be put together, it was still necessary to finish the intakes. Thanks to the excellent fit this was no problem and it did not have to be filled. Here is the finished painted and aged back part of the Intake Tunnel.
Die erste Verdichterstufe wurde mit Alclad und der Konus mit Tamiya weiss matt bemalt. Auch hier erfolgte eine Alterung.
---
The first compressor stage was painted white with Alclad and the cone with Tamiya white matt. Again there was some aging
An den bereits gezeigten Intake-Rampen musste ich nochmals ran, da ich den vorderen Bereich versehentlich auch mit weiss matt anstatt «Navy white» bemalt hatte. Die Korrektur stellte aber kein Problem dar.
---
At the Intake ramps already shown, I had to rework, because I accidentally painted the front area with white matt instead of "Navy white". The correction was not a problem.
Zwischenzeitlich wurden die AIM-7 und AIM-9 Raketen aus dem Kit zusammengebaut.
---
Meanwhile, the AIM-7 and AIM-9 rockets were assembled from the kit.
Auch die Resinteile von Eduard Brassin, bestehend aus den Rädern und den AIM-54 Phoenix-Raketen wurden von den Angüssen getrennt, versäubert und gewaschen.
---
Also, the resin parts of Eduard Brassin, consisting of the wheels and the AIM -54 Phoenix rockets were separated from the sprues, cleand and washed.
Die Bemalung diverser Antennen und Sensoren erfolgte auch zwischendurch mit Farben von Alclad.
---
The painting of various antennas and sensors also took place in between with the colors of Alclad.
Danach kamen die teilweise bereits vorlackierten Nozzles wieder dran. Auf der zuvor weiss lackierten Innenseite wurden die Bereiche, die weiss bleiben sollten, maskiert. Hier leisteten die sehr nützlichen Masken von New Ware grosse Hilfe, da die Arbeit sonst sehr zeitaufwändig gewesen wäre.
---
After that, the partially pre-painted Nozzles came back. On the previously white painted inside, the areas that should remain white were masked. Here, the very useful masks of New Ware made great help, otherwise the work would have been very time consuming.
Danach wurde die Innenseite mit «Jet Exhaust» von Alclad lackiert.
---
The inside was painted with «Jet Exhaust» by Alclad.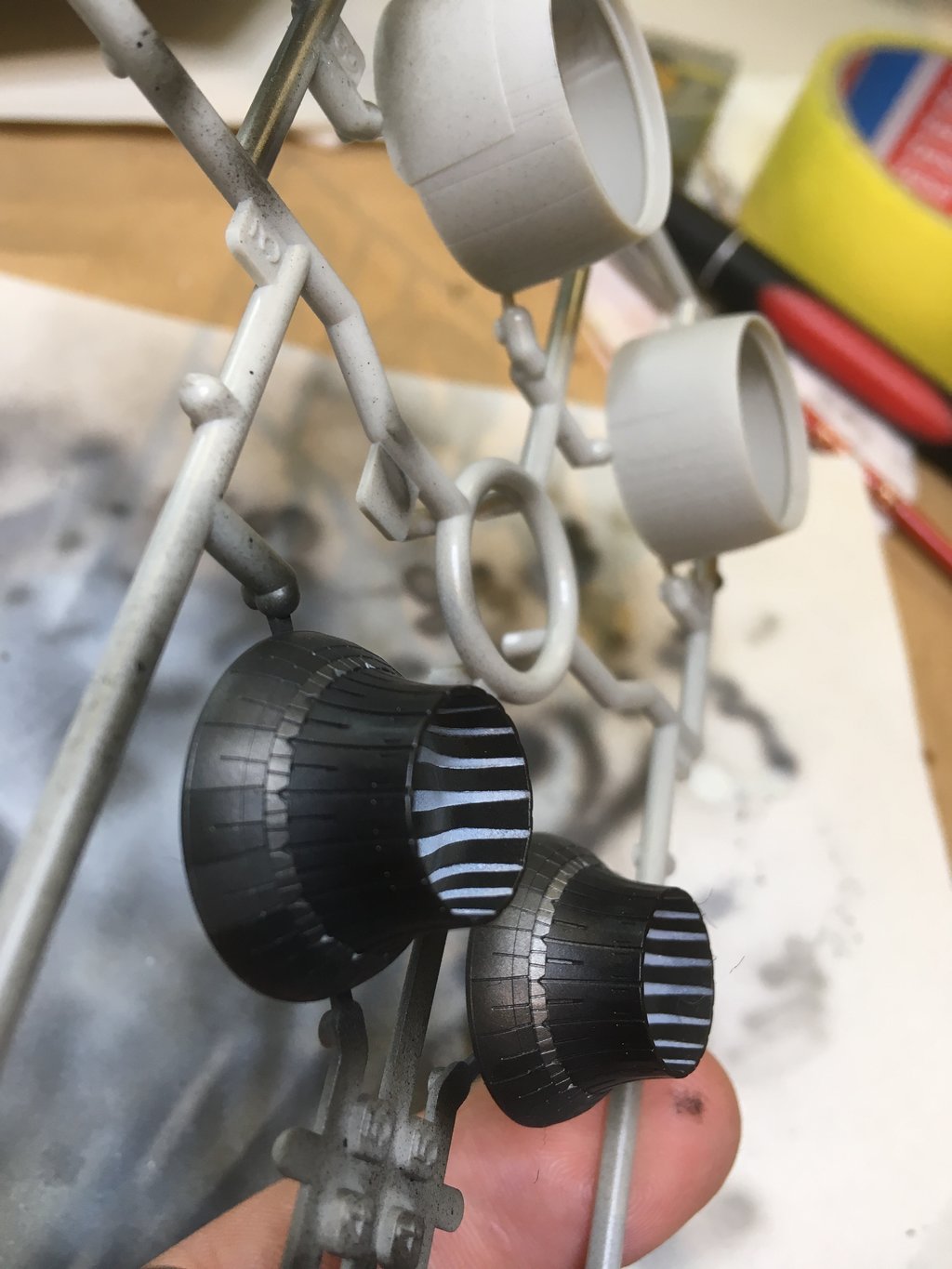 Hier die fertig gealterten und bereits zusammengebauten Nozzles.
---
Here are the finished aged and already assembled Nozzles.
Da die F-14 mit eingeschalteten Motoren kurz vor dem Wegrollen auf dem Trägerdeck dargestellt werden soll (daher auch zwei geschlossene Nozzles), brauchte es natürlich auch eine Besatzung.
Die Pilotenfiguren stammen aus dem Kit und wurden zunächst mit Airbrush und Pinsel in verschiedenen Grüntönen, schwarz und grau bemalt.
---
The F-14 will be shown with running engines on shortly before rolling on the carrier deck (hence two closed Nozzles), it needed, of course, a crew.
The pilot figures are from the kit and were first painted with airbrush and brush in different shades of green, black and gray.
Die Helme wurden gestützt auf Vorbildfotos gelb bemalt. Leider fehlen die Decals für die Schwerter, die normalerweise die Helme der «Swordsmen» zieren.
---
The helmets were painted yellow based on reference photos. Unfortunately, the decals are missing for the swords that normally adorn the "Swordsmen" helmets.
Die fertige Besatzung.
---
The finished crew.
Nachdem dann Ober- und Unterteil des hinteren Rumpfsegments zusammengebaut waren, fielen mir die Spalte zwischen den Triebwerkstunneln und dem Mittelteil auf.
---
After the upper and lower sections of the rear fuselage segment were assembled, I noticed the gap between the engine tunnels and the center section.
Gestützt auf Risszeichnungen verschloss ich die Spalte mit Sheet und Green Putty.
---
Based on Blueprints I closed the gaps with Sheet and Green Putty.
Gestützt auf Risszeichnungen verschloss ich die Spalte mit Sheet und Green Putty.Nur leider erwiesen sich die Risszeichnungen als falsch, sodass ich das Sheet und das Green Putty kurz darauf wieder entfernen musste.
---
Unfortunately, the crack drawings turned out to be wrong, so I had to remove the sheet and the Green Putty shortly thereafter.
Nachdem das Missgeschick behoben war, wurden weitere Teile vorbereitet. So zum Beispiel alle Fahrwerksklappen.
---
After the mishap was resolved, more parts were prepared. For example, all landing gear doors.
Die grüne Tönung der mittleren Frontscheibe wurde mit Aclad «Armored Glass» lackiert.
---
The green tint of the middle windscreen was painted with Aclad «Armored Glass».
Auch die CPU-Cover fürs Cockpit wurden lackiert. Interessanterweise hatten die beiden Teile der hinteren Abdeckung unterschiedliche Farben, da links und rechts nicht vom selben Hersteller stammten und ihre Farbe unter dem Sonnenlicht unterschiedlich veränderten.
---
The CPU covers for the cockpit were also painted. Interestingly, the two parts of the back cover had different colors, as the left and right did not come from the same manufacturer and changed their color differently under the sunlight.
Zwischenzeitlich wurde auch das Fahrwerk zusammengebaut.
---
In the meantime, the Landing Gear has been assembled.
Für die fertigen Piloten brauchte es natürlich noch Sitze. Ich habe hier aufgrund der Besatzung und der geschlossenen Cockpithaube ganz bewusst auf Resinsitze verzichtet.
---
For the finished pilots, of course, it still needed seats. Because of the crew and the closed cockpit canopy, I have deliberately renounced Resin Ejection Seats
Dann ging es an den Zusammenbau. Hier noch ein Bild des fertigen hinteren Rumpfsegments.
---
Finally it went to the assembly. Here is a picture of the finished rear fuselage segment.
Dann kam die Hochzeit zwischen Vorder- und Hinterteil. So habe ich das noch nie erlebt. Es passte einfach perfekt und bedurfte keinerlei Nacharbeit.
---
Then came the wedding between front and back. I've never experienced that before. It just fit perfectly and needed no rework.
Auf der Oberseite kamen noch zwei Abdeckungen drauf. Und die Positionslichter wurden vorab lackiert. Dies war möglich, da dem Maskenset von New Ware auch für die Positionslichter passgenaue Masken beilagen.
---
On the top there were two covers on it. And the position lights were painted in advance. This was possible because the mask set of New Ware also fitted masks for the position lights.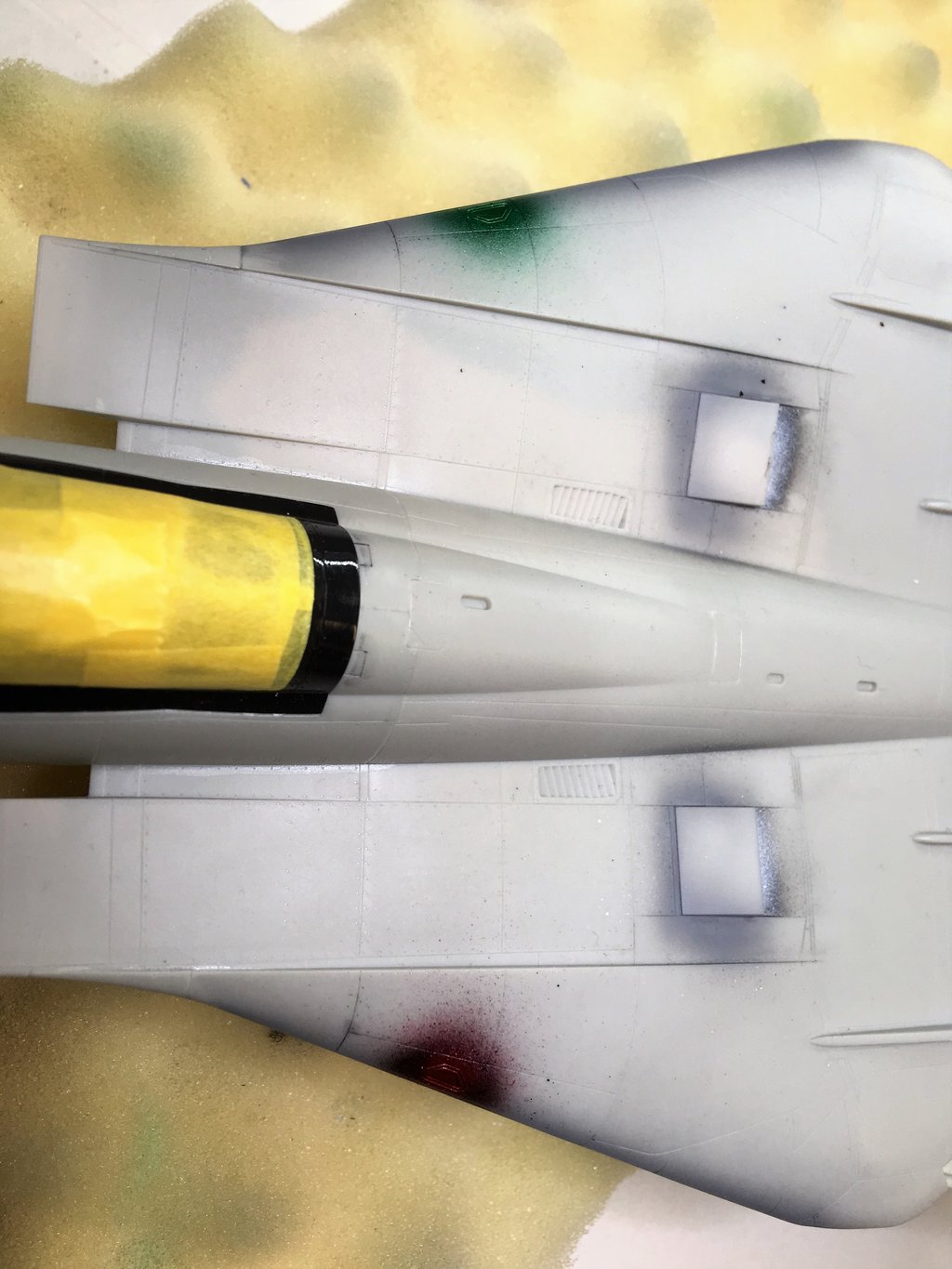 Schliesslich waren das Flugzeug und sämtliche Anbauteile bereit für die Grundierung.
---
Finally, the aircraft and all attachments were ready for the primer.
Grundiert wurde dann – vor allem wegen der weissen Rumpfunterseite – mit Black Primer von Alclad.
---
It was primed – mainly because of the white hull underside – with Black Primer from Alclad.
Nun war alles bereit für den nächsten Schritt: Die Lackierung.
Gemäss dem Grundsatz, von hell zu dunkel wurde zunächst der Rumpf mit MRP 99 «Navy White» von Mr. Paint in drei Durchgängen lackiert, sodass entlang der Panellinien noch Schattierungen zu sehen sind.
---
Now everything was ready for the next step: the paint job. According to the principle, from light to dark, the fuselage was first painted with MRP 99 by Mr. Paint in three passes, so that shades can still be seen along the panel lines.
Nach etwas mehr als 24 Stunden Trocknungszeit konnte dann für die Oberseite maskiert werden. Dies geschah entlang der «weichen» Übergänge mit Pattafix-Röllchen und der Rest mit Tamiya-Tape, bzw. Tesa Precision Indoor.
---
After just over 24 hours drying time could then be masked for the top. This happened along the "soft" transitions with Pattafix rolls and the rest with Tamiya tape, or Tesa Precision Indoor.
Dann wurde die Oberseite analog des Vorgehens der Unterseite mit MRP-98 «U.S. Navy light gull grey» lackiert.
---
Then the top was made analogous to the underside procedure with MRP-98 "U.S. Navy light gull gray" painted.
Die Übergänge gelangen mit der Pattafix-Methode wunschgemäss.
---
The transitions are achieved with the Patafix method as desired.
Nur an einer Stelle kam es zu einem Fehler….
---
Only in one place it came to an error ….
… welcher schnell korrigiert war.
---
… Which was corrected quickly.
Nachdem die Unterseite der Tragflächen auch weiss lackiert wurde, wurden die weissen Bereiche auf der Oberseite wiederum mit den passenden Masken von New Ware abgeklebt.
---
After the underside of the wings was also painted white, the white areas on the top were again taped with the matching masks of New Ware.
Hier die komplette Lackierung.
---
Here the complete painting.
Für den Blendschutz gab es wiederum Masken. Dieser wurde erst schwarz lackiert und dann die Panels einzeln mit Tire Black aufgehellt.
---
There were again masks for the glare protection. This was first painted black and then the panels lightened individually with Tire Black.
Im fünften und letzten Teil dieses Bauberichts siehst du, wie es mit der Lackierung weitergeht und wie die Tomcat ihr Finish bekommt.
Nachdem die Grundlackierung soweit abgeschlossen war, ging es an die Detailbemalung. Die antirutsch-Bereiche auf den Lufteinlässen wurden abgeklebt und durch Auftupfen von Flüssigspachtel mit einem Stück Schaumstoff nachgebildet.
---
In the fifth and final part of this Photo Build, you'll see how the paintwork goes on and how the Tomcat gets its finish.
After the main paintjob was completed, it went to the detail painting. The anti-slip areas on the air inlets were taped and simulated by dabbing liquid putty with a piece of foam.
Nach der Trocknungszeit erfolgte dann die Lackierung gemäss Vorbildfotos.
---
After the drying time, the painting was carried out according to sample photos.
Als Nächstes folgten die in Naturmetall belassenen Teile im Triebwerksbereich. Wie üblich wurde zunächst abgeklebt, dann schwarz grundiert und danach die Alclad-Metallicfarbe – hier Jet Exhaust – auflackiert.
---
Next Step the natural metal parts in the engine area. As usual, it was masked first, then primed black and then the Alclad metallic paint – here Jet Exhaust was painted.
Dann folgte der abgesetzte Bereich in einem helleren Farbton; Alclad Steel.
---
Then the offset area followed in a lighter shade; Alclad Steel.
Die naturmetallenen Bereiche an den Vorderkanten der Flügel und Leitwerke überzog ich mit Bare Metal Foil «matte Aluminium». Anleitungen dazu gibt es u.a. auf Youtube.
---
The natural metal areas on the leading edges of the wings and tail panels were covered with bare metal foil "matt aluminum". Instructions are on Youtube.
Nachdem alle Detailbemalungen soweit abgeschlossen waren, wurde alles als Vorbereitung für die Decals mit Glanzlack von Tamiya versiegelt.
---
After all the detail paintings were completed, everything was sealed with Tamiya gloss paint as a preparation for the decals.
Dann kamen die sehr zahlreichen Decals – eine Mischung aus den Decals von Tamiya aus dem Kit und von Furball – dran.
Insbesondere die grösseren Furbal-Decals stellten dabei eine Herausforderung dar, da diese empfindlich auf den verwendeten Weichmacher reagierten und von diesem teilweise zerfressen wurden. So blieb mir nichts anderes, als ein zweites Decalsheet zu ordern, um das Projekt überhaupt abschliessen zu können.
---
Then came the many decals – a mix of Tamiya decals from the kit and Furball.
In particular, the larger Furbal decals were a challenge because they were sensitive to the plasticizer used and were partially eroded by this. So I had no choice but to order a second decalsheet to complete the project at all.
Eine weitere Schicht Glanzlack bereitete das Modell auf die Alterung vor. Diese erfolgte einerseits durch Aufsprühen von Tamiya Smoke, um dunkel verfärbte Bereiche darzustellen, wobei ich einige Stellen mit Maskol und Tape abklebte, um von den Mechanikern abgegriffene Stellen und viel geöffnete Wartungsdeckel darzustellen.
Auf ein vollständiges Washing wurde in diesem Fall verzichtet und nur die Panellines mit einem hellen Wash (Florymodels grey) stellenweise betont.
---
Another layer of gloss varnish prepared the model for aging. On the one hand, this was done by spraying Tamiya Smoke to create dark discolored areas, masking some areas with maskol and tape to depict mechanic-tapped areas and much open maintenance covers.
A complete washing was omitted in this case and emphasized in places only the Panellines with a light wash (Florymodels gray).
Danach tupfte ich mit einem Schwammpinsel Pigmente aus einem Tamiya Weathering-Set auf, um Fussspuren des Wartungspersonals darzustellen.
---
Then I dabbed pigments from a Tamiya Weathering set with a sponge brush to show footprints of maintenance personnel.
Als all dies erledigt war, kam der Decklack – in diesem Fall Mattlack von Vallejo – über das ganze Modell. Punktuell sprühte ich auch ein wenig Glanzlack auf und polierte einige Stellen, damit das ganze den Look bekommt, als sei die Maschine ursprünglich glänzend lackiert gewesen.
Vor der Endmontage musste ich noch zwei Lüftungsgitter in Naturmetall nachlackieren, die ich zuvor vergessen hatte. Auch hier wurde wieder erst schwarz grundiert und dann mit den Metallicfarben lackiert.
---
When all this was done, the top coat – in this case matt varnish from Vallejo – came over the entire model. Sometimes I sprayed a little gloss varnish and polished some places, so that the whole gets the look, as if the machine had originally been painted glossy.
Before the final assembly I had to repaint two ventilation grids in natural metal, which I had previously forgotten. Again, first black was primed and then painted with metallic paints.
Gleichzeitig wurde auch die klassische Tomcat-Bewaffnung fertig.
---
At the same time, the classic Tomcat armament was finished.
Und so konnte die Endmontage beginnen. Hier nur zwei Bilder der Waffenträger und von der Unterseite. Den Rest siehst du dann im Rollout.
---
And so the final assembly could begin. Here are just two pictures of the weapon carriers and from the bottom. The rest you see then in the rollout.
THE END